Miguel A. Chavez, PC
Miguel A. Miguel A. Chavez, PC is one of the Three Best Rated® Accounting Firms in Laredo, TX.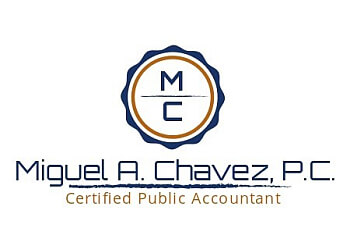 Chavez, PC is a renowned CPA firm based in Laredo that provides a comprehensive range of accounting services. Their team of experts specializes in corporate and personal tax preparation, offering valuable assistance in IRS investigations, asset audits, and tax planning. With their extensive knowledge and experience, they are dedicated to delivering exceptional guidance. In addition to tax-related services, Miguel A. Chavez, PC also offers general business consulting and outsourced controller services to both national and international businesses. Their aim is to assist clients in navigating evolving business techniques, identifying tax-saving strategies, and ensuring long-term business sustainability. Through their structured financial accounting services, they empower clients to grow, address inefficiencies, and seize new business opportunities. Miguel A. Chavez, PC strives to provide the expertise and support necessary for its clients to thrive in a competitive market. With a commitment to excellence, Miguel A. Chavez, PC is a trusted partner that helps businesses and individuals achieve their financial goals while optimizing their operations. Book a free call with one of their experts.
Tax Preparation and Planning

Accounting Services

Business Consulting

Investment Advisory and Retirement & Financial Statements
Miguel Chavez and his courteous staff have been very helpful in guiding us with all our long term business planning and tax matters. He is very knowledgeable regarding the IRS and quickbooks as well, explaining the details very carefully and even helped my company with a few things we weren't doing right and how to fix the issues before they became problematic. I highly recommend the office of Mr. Chavez for any professional company or small business very professional.
Excellent experience working with this CPA! They truly value their clients. They are knowledgeable, friendly, very prompt in responding to calls and emails, efficient and ready to assist in the full capacity of their profession. Miguel Chavez, CPA is a valuable gem in Laredo.
I was referred by a friend and thus has been the best decision I have made for my small business. They are so helpful. I would recommend anyone who needs some guidance, get a consultation. They are just great.
Mon-Fri: 9am - 6pm
Sat: By Appointment
Sun: Closed
Nearby Accounting Firms in Laredo: