Pankaj S. Raval - Carbon Law Group P.C.
Pankaj S. Pankaj S. Raval - Carbon Law Group P.C. is one of the Three Best Rated® Business Lawyers in Los Angeles, CA.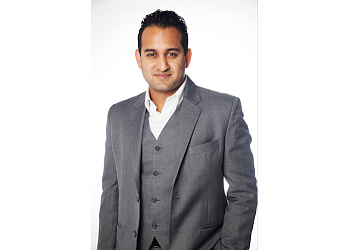 Raval is the founder of Carbon Law firm and attained his law degree from the University of Arizona Rogers College of Law. Pankaj offers legal services to entrepreneurs and small to medium-sized companies, providing customized and innovative legal solutions. His expertise lies in assisting business owners and startups in Arizona and California. Pankaj's practice encompasses various aspects of business law, where he represents businesses in foundational and developmental issues. During his time at law school, Pankaj actively participated in the Student Bar Association, the International Law Society (ILS), and the Entertainment Law Society. Notably, he served as the President of the International Law Society. Carbon Law Group is a boutique law firm concentrating on intellectual property and corporate transactions. The firm specifically prioritizes securities litigation, civil litigation, and employment law. Their team of professionals aids clients in navigating the complex corporate landscape of business entities. Moreover, they have fostered robust collaborations with venture capitalists, entrepreneurs, and third-party experts within the local startup ecosystem.
Formation

Tax

Licenses and Permits

Entity Name Availability Check

Entity Name Reservation

Licenses

Trademark of Business Name

Partnership Agreements

Preformation Agreement

Certificate of Incorporation

Contracts and Investor's Rights Agreement

Corporation

Startup & Series a Preferred Stock Purchase Agreement
I went to Carbon Law Group to get a trademark for my business. I had called a number of other places prior to calling them. My first contact was with Samantha Villanueva and she was the reason why I actually decided to go with them. She was very personable polite, and knowledgeable and patient. She set me up with Judy who was my attorney for this purpose. Judy was very responsive, knew the job well, was thorough and so easy to reach and connect with if I had any questions. I would definitely recommend them for your legal needs!
Pankaj is an attorney who truly puts client relationships at the forefront of his business practice. I had a small concern with the way something was handled and he went out of his way to make sure the situation was immediately rectified and handled to my expectations. Looking forward to a long term realtionship with Carbon Law.
One of the best law firms we've worked with, and we've worked with plenty. Pankaj and his staff are very knowledgeable, super understanding and most importantly: very caring! Saved us a huge headache plenty of times. We will be using Carbon Law Group for all of our business legal counsel. Thank you again!
Mon-Fri: 9am - 6pm
Sat & Sun: Closed
Nearby Business Lawyers in Los Angeles: