Midnite Confection's Cupcakery
Midnite Confection Cupcakery is widely recognized as one of the premier cake shops in the area. Midnite Confection's Cupcakery is one of the Three Best Rated® Cakes in Baltimore, MD.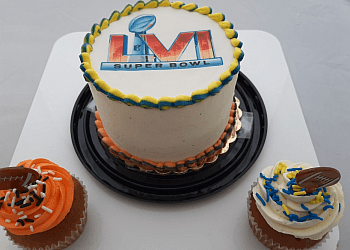 As a family-owned establishment, they take pride in using traditional recipes from fresh and organic ingredients. With a delectable selection of 12 cupcake flavors and seven cookie flavors available daily, Midnite Confection ensures something to satisfy every sweet craving. Their offerings are designed to cater to your trendy and modern lifestyle, providing gourmet cupcakes that are a perfect blend of taste and style. For those needing specialized cakes, Midnite Confection accepts orders for fondant logos and special celebration cakes, ensuring your unique requirements are met. Midnite Confection is also well-equipped to provide cakes for various special occasions, including wedding anniversaries, corporate meetings, and birthday celebrations. Midnite Confection offers gluten-free and vegan cake options, ensuring everyone can enjoy their delectable treats. Takeout and delivery services are available for added convenience, allowing you to enjoy their creations in the comfort of your own home or at your desired location.
CAKE FLAVORS: Fuzzy Navel

Cupcakes

Cherry Almond

Vanilla Latte

Oatmeal Cookie

Black Velvet

Eclipse

Brownie Brulee

Apple Caramel

Lemon Blueberry

Banana Pudding

Pina Colada

Velvet Sunset

Full Moon

Chocolate Chip Cookie Dough

Irish Cream Cakes & Midnite Sublime-Inal
After reading one review, I just knew I had to pop inside since my sweet tooth was calling my name. I am so glad I did, too!! I got the Full Moon and Sublimeinal cupcake. When I say these were the hands down best cupcakes I have ever tasted. They were super moist, and the frosting was not too sweet but will have you craving more. Whoever is baking these cupcakes has a serious gift!! I wanna know the secret, but I will be back for more!
I came in for the first time this past week to pick up a cupcake for my friends 1 year non-smoking anniversary. The gentleman behind the counter was incredibly friendly and helpful, and explained all the flavors they had on the menu. I ended up getting 3 cupcakes (1 for friend, two for me ) because he recommended them and they sounded SO good! I'm so glad I got the extras because they were the best cupcakes me and my boyfriend have ever had!! It's dangerous we live right down the street, because we will surely be back many times!
Listen!!!! It was my first time coming here and I'll definitely be back! The moistness and flavor of these cupcakes is amazing . The only downside is that they didn't have certain flavors that I wanted to try available, but who can blame them because these cupcakes are flying off the shelves.
Black Velvet Cupcake $4.95
Playboy Cupcake $4.95
Eclipse Cupcake $4.95
Birthday Cake $4.95
Full Moon Cupcake $4.95
Midnite Cupcake $4.95
Sublimeinal Cupcake $4.95
Salted Caramel Cupcake $4.95
Tue-Thu: 12pm - 7pm
Fri & Sat: 12pm - 8pm
Sun & Mon: Closed
Nearby Cakes in Baltimore: