EcoClean Water Damage Restoration and Carpet Cleaning
EcoClean Water Damage Restoration and Carpet Cleaning is a renowned company in Chicagoland dedicated to providing top-rated carpet cleaning and water damage restoration services. EcoClean Water Damage Restoration and Carpet Cleaning is one of the Three Best Rated® Carpet Cleaners in Naperville, IL.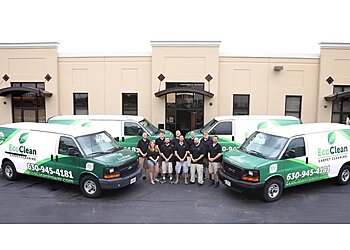 As a local family-owned and owner-operated business, they prioritize delivering exceptional results and ensuring your home remains a clean and healthy living environment. With a commitment to utilizing the most powerful machines and cutting-edge technology in the industry, EcoClean employs highly educated and experienced technicians. Their expertise guarantees that every job is executed with precision and excellence. Over the years, they have built a solid reputation for delivering quality and dependable carpet cleaning services to residential and commercial clients in Naperville and the surrounding areas. By utilizing the best environmentally friendly solutions, their experienced technicians leave your surfaces spotless and refreshed while also promoting a healthier home environment. They take pride in their work and guarantee a job done right, ensuring your complete satisfaction. As an added bonus, EcoClean includes a complimentary bottle of professional carpet stain remover with every carpet cleaning service.
Apartment

Residential and Commercial Carpet and Upholstery

Fabric Protection

General House

Water Damage Restoration

Area Rug Cleaning

Pet Stain/Odor and Spot Removal

Tile

Grout

Carpet Repair & Stretching
Noah and Alex did an incredible job cleaning the carpets and rugs in our home! Our carpeting looks brand new, even though it's four years old, we have two toddlers, and have never had the carpets professionally cleaned before. They were timely, professional, incredibly nice and gave great, honest recommendations for additional work. Thank you so much! We'll definitely be using this company again in the future!
EcoClean did an amazing job cleaning our carpets! The technician, Terry, was extremely polite and professional. This was the first time we had our carpets professionally cleaned in many years and I am amazed by how great our carpets look after a cleaning from EcoClean! I highly recommend EcoClean and we will definitely use them again in future!
Not affiliated or have any relatives work for this company but wow, our tech Terry did a phenomenal job in restoring and making our high traffic carpet area look new again. I highly recommend this company and believe all technicians from the show of Terry have passion in rejuvenating, restoring and eliminating any odor you can throw at these professional techs. Thanks for the awesome service you provided and will return again! ***** pictures don't do justice
Furniture Cleaning – Three Seater Sofa $169
Furniture Cleaning – Sectional Couch up to 4 Seats $205
Additional Seat for Sectional Couch Cleaning $50
Furniture Cleaning – Loveseat $139
Mattress Cleaning $99
Tile & Grout Cleaning:
Cleaned under 300 Sq Ft $1/per Square Foot
Cleaned over 300 Sq Ft $0.80/per Square Foot
$0.50 per Square Foot Sealed
Residential Carpet Cleaning:
Per Room $65
Staircase $75
Walk-In Closet $19
Discount
Get 15% Off By Scheduling Today
15% Off on Carpet Cleaning
15% Off on Area Rug Cleaning
15% Off on Air Duct Cleaning
15% Off on Tile and Grout Cleaning & Sealing
15% Off On Hardwood Cleaning

View Coupon
Nearby Carpet Cleaners in Naperville: