Oxi Fresh Carpet Cleaning Naperville
Oxi Fresh Carpet Cleaning Naperville is a reputable carpet cleaning company that prioritizes deep cleaning, quick drying, and eco-friendliness. Oxi Fresh Carpet Cleaning Naperville is one of the Three Best Rated® Carpet Cleaners in Naperville, IL.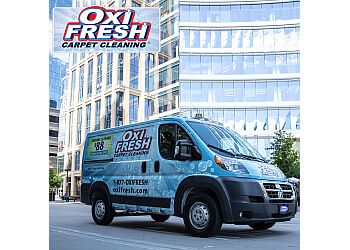 Their carpet cleaners employ a robust and environmentally conscious cleaning system that delivers outstanding results. With their modern techniques and effective yet safe solutions, they can effectively eliminate years of dirt and stubborn stains, leaving your home's floors looking refreshed and revitalized. What sets Oxi Fresh Carpet Cleaning Naperville apart is its commitment to using green cleaning methods that are safe for both children and pets. Their cleaning process leaves no sticky residue behind, ensuring a clean and comfortable environment for your family. Additionally, their innovative approach enables fast drying, with carpets typically drying in just one hour. To experience the benefits of Oxi Fresh Carpet Cleaning Naperville, simply reach out to them for a quote. Their team will provide you with all the necessary information and pricing details for your carpet cleaning service.
Commercial Carpet

Hardwood Floor

Steam

Tile

Grout & Upholstery Cleaning Services



Bolingbrook

Aurora

Plainfield & Many More Near Naperville
Zack did an excellent job! Got some deep stains out of our carpet from puppy urine. It was also easy to schedule this online using their web site.
Zack was very professionL and did a great job on some tough stains. He gave me recommendations on how to keep the carpet clean.
Zack was great. Learned alot about carpets. He went above and beyond his job and had excellent customer service. Highly recommended!
Whole House Cleaning: $249
3 Rooms Special: $129
Upholstery Cleaning: $25
Mon-Fri: 7am - 8pm
Sat: 8am - 7pm
Sun: Closed
Nearby Carpet Cleaners in Naperville: