S.N. Cleaning Inc
S. S.N. Cleaning Inc is one of the Three Best Rated® Carpet Cleaners in Naperville, IL.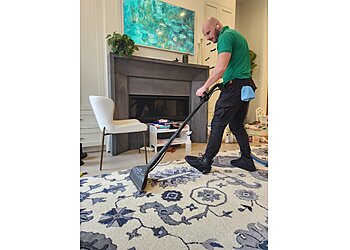 N. Cleaning Inc, a reputable carpet cleaning company in Naperville, takes pride in delivering exceptional customer service with every interaction. As a family-owned business, they prioritize providing a personalized and professional experience to their clients. Their team of carpet professionals is highly skilled, committed, and dedicated to delivering top-quality results. One of the standout features of S.N. Cleaning is their use of natural enzyme treatment. With S.N. Cleaning, you can trust that they prioritize the health and well-being of your family. When it comes to transparency and affordability, S.N. Cleaning excels. They have a straightforward pricing structure with no hidden fees, ensuring you know exactly what to expect. As a bonus, they offer free estimates for all residents of Naperville, allowing you to plan and budget for your carpet cleaning needs easily. Choose S.N. Cleaning for professional and reliable carpet cleaning services in Naperville, where customer satisfaction is their top priority.
Carpet

Upholstery

Area Rug

Tile and Grout

Mattress

Commercial and Leather Cleaning

Pet Odor & Fabric Protection



Chicago

Willow Springs & Palos Hills
We recently Used S.N. Cleaning for our upstairs carpet which was installed 4 years ago and was long overdue for a cleaning. We were able to schedule very quickly, the prices on the website were accurate and Casey did an amazing job. Our carpets look amazing! I highly recommend S. N. Cleaning Inc for your carpet and upholstery cleaning needs.
We have used this company twice now and both times they have been amazing. We have a suede couch, 2 puppies and kids. We were considering getting new furniture but it's so expensive. They came out and cleaned our couch and it looks brand new. Our tech was very nice and professional. We would highly recommend this company.
They were able to schedule me quickly. Their technician was professional and performed his job efficiently. Was very pleased with their service. I am recommending them to my family.
Carpet Cleaning (per room): $45
Hallway (based on size) starts from $20
Basement / Downtown Studios (per sq. ft.): $0.20
Stairs (per step): $3
Nearby Carpet Cleaners in Naperville: