Masters Services Inc.
Masters Services Inc. Masters Services Inc. is one of the Three Best Rated® Chimney Sweep in Irving, TX.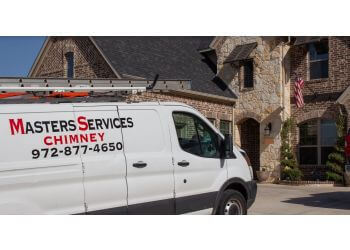 is a business that has been operating in Texas and Oklahoma for over 25 years, with a strong emphasis on family ownership and operation. Chad Murray founded this establishment, which specializes in chimney services. Their team of chimney sweeps undergoes rigorous training from leading experts in the field, holding esteemed Master Chimney Certifications. Additionally, employees are provided with opportunities for professional growth, enabling them to enhance their skills and obtain certifications that advance their roles. With a remarkable roster of 19 CSIA certified staff members, Masters Services ensures that their team is well-equipped to maintain the highest standards of care for your fireplace and chimney. They offer an array of services dedicated to keeping your chimney and vent systems in optimal condition. As a Certified Chimney Professional, Masters Services conducts thorough inspections of every chimney and firebox prior to performing a chimney sweep. This meticulous approach guarantees the utmost care and attention to detail. Moreover, Masters Services extends its offerings beyond maintenance and inspection. They provide installation services within their designated service areas, and their products can be shipped nationwide. Customers interested in installing a Masters Services chimney cap are entitled to a complimentary estimate. To cater to their diverse clientele, Masters Services offers a wide range of color and material options, ensuring customer satisfaction in every aspect.
Chimney Sweep

Caps

Inspections

Cleaning

Repair

Installations

Masonry

Maintenance

Fireplace Door & Gas Logs


Chimney Sweep

Caps

Inspections

Cleaning

Repair

Installations

Masonry

Maintenance

Fireplace Door & Gas Logs
Houston

Oklahoma City & Ft. Worth
The technicians installing new fireplace doors were attentive to detail and made sure fit was perfect. We received a nice looking product with great workmanship.
We had a very positive visit with our rep. He was punctual, informative and thorough. He did not try to up-sell us. He made us enthusiastic about our fireplace.
Cody was so efficient and knowledgable! Masters chimney services in Lewisville is awesome!
Nearby Chimney Sweep in Irving: