Curt Samlaska, MD, FACP, FAAD - ACADEMIC DERMATOLOGY OF NEVADA
Curt Samlaska, MD, FACP, FAAD - ACADEMIC DERMATOLOGY OF NEVADA is one of the Three Best Rated® Dermatologists in Henderson, NV.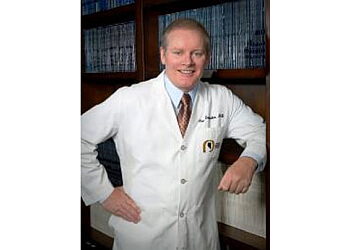 Dr. Curt Samlaska is a board-certified Dermatologist and American Academy of Dermatology Fellow. He began his medical journey at the University of Minnesota, where he completed his medical school training. He further honed his expertise in internal medicine at the Tripler Army Medical Center. Dr. Samlaska then pursued specialized training in dermatology at the esteemed Walter Reed Army Medical Center in Washington. Driven by his passion for dermatology, Dr. Curt Samlaska founded the esteemed Academic Dermatology of Nevada. Since 1998, this clinic has served the Henderson and Las Vegas communities. They offer comprehensive, full-service advanced skincare for patients of all ages, encompassing medical, cosmetic, and aesthetic dermatology. Ensuring the utmost quality of care, all services at Academic Dermatology of Nevada are administered by licensed and certified professionals well-versed in the latest treatment technologies. Dr. Curt Samlaska approaches his patients with the utmost respect and dignity, striving to facilitate their speedy recovery. To schedule an appointment, don't hesitate to contact Academic Dermatology of Nevada.
Acne

Rosacea

Keloids

Eczema

Psoriasis

Skin Discoloration

Folliculitis

Erysipelas

Skin Cancer Treatment

Moles

Viral and Drug Eruptions

Rashes

Warts

Hair Disorders

Intertrigo

Severe Sweating

Nail Disorder

Sun Damage

Ulthera Aesthetic Ultrasound

Sculptra Aesthetic

Microdermabrasion

Botox

Facials

Waxing

Eyebrow & Lash Tinting
I have been going to Dr. Samlaska for years. I am always seen on time with never a wait. The staff is very friendly and professional. Dr. Samlaska is very thorough and ensurs the proper follow up. I highly recommend him.
Dr. Samlaska's excellent and thorough expertise was the reason I was able to be completely cured of severe eczema on my hands and lower legs over 10 years ago. For that I am forever grateful, his treatment and care changed my life.
Curt is a good skin doctor. Besides that he is an accomplished writer. I've seen him several times and have read one of his books. His staff is very friendly and the Doctor is very efficient and thorough. I rate him 5 stars.
Top Doctors by My Vegas Magazine in 2015
Aetna, Anthem Blue Cross Blue Shield, Blue Cross Blue Shield, Blue Cross Blue Shield of Arizona, Blue Cross Blue Shield of Michigan, Blue Cross Blue Shield of Minnesota, Cigna, Coventry Health Care, First Health (Coventry Health Care) & More
Mon-Fri: 8am - 4:30pm
Sat & Sun: Closed
Nearby Dermatologists in Henderson: