Barrett D. Mack - Mack & Associates, PLLC,
Barrett D. Barrett D. Mack - Mack & Associates, PLLC, is one of the Three Best Rated® Divorce Lawyers in Albany, NY.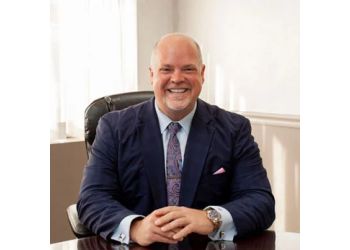 Mack is the founder of Mack & Associates, PLLC. His practice exclusively concentrates on the areas of matrimonial and family law. Barrett regularly handles any domestic matter, including complicated divorce actions involving the valuation and distribution of assets, child custody litigation, and support issues. Barrett served the County of Columbia as an Assistant County Attorney for eight years. He practices in Albany, Columbia, Greene, Rensselaer, Saratoga, Schenectady, Schoharie, and Sullivan counties. Mack & Associates, PLLC, practices in matrimonial and family law, personal injury, criminal defense, collaborative divorce, appeals, civil litigation, estate administration and probate, employee benefits, and real estate. They are experienced litigators and negotiators that achieve results for their clients. They provide compassionate but aggressive representation, and their success is based on hard work, preparation, and dedication to their clients.
Divorce

Separation

Child Custody

Child Support

Spousal Maintenance

Equitable Distribution

Paternity

Guardianship

Domestic Violence

Adoption

Pre-Nuptial

Post-Nuptial

Cohabitation and Domestic Partnership Agreements

Post-Judgment Enforcement & Modification
Barrett had a strategy plan for my divorce during the initial consultation. Even though I held back on executing some of it, he never made me feel guilty for it. Eventually I was ready and I am very happy with the results! The whole process could have gone quicker BUT it was the OC holding everything up, not my legal team. Highly recommend him and his legal team!
Barrett and his team are worth every penny spent. They took a complex, overwhelming situation and made it manageable while fighting tirelessly to get the outcomes we wanted. He's the only attorney I can confidently recommend for divorce and family matters.
This office has represented me in a divorce and a prenup. I was very impressed with how they educated me through two complicated situations and how responsive they were to what I was hoping to do.
Mon-Fri: 9am - 5pm
Sat & Sun: Closed
Nearby Divorce Lawyers in Albany: