The Colwell Law Group, LLC
The Colwell Law Group, LLC is a well-known law firm in Albany. The Colwell Law Group, LLC is one of the Three Best Rated® Divorce Lawyers in Albany, NY.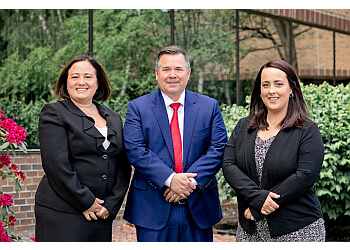 Its number one priority is always its clients. Their team members have decades of combined experience negotiating and trying family law cases. They can use their experience and knowledge of the courts and New York family law to advocate for their clients. Their lawyers are dedicated to serving their client's best interests while allowing them to feel heard and understood. Colwell Law has numerous experienced attorneys in Family Law that can help put you at ease. They focus on providing their clients with the most effective representation and the highest level of personal service. Their experienced Albany family lawyers can help prepare you for what to expect and advocate on your behalf throughout the legal process. They serve clients in Albany, Columbia, Dutchess, Greene, Herkimer, Ulster, Otsego, Rensselaer, Saratoga, Schenectady, Schoharie, Warren & Washington.
Divorce

Child Support

Finances

Property Distribution

Separation Agreements

Spousal Maintenance (Alimony)

Division of Pensions and Retirement Accounts

Temporary Relief in Divorce

Child Custody

Father's and Grandparent's Rights

Parental Relocation

Paternity

Modifications

Prenuptial Agreement & Domestic Violence
Very nice people! Very helpful and understanding through the whole process! I feel they went above and beyond to make things easier and smoother. Very knowledgeable in their practice and easy to communicate with in a timely fashion. Plus they always have coffee. Lindsey Philips was awesome to work with and also my attorney Kyle Starks was awesome too! Would recommend him to anyone!
After almost a whole year of feeling nothing but stress on my shoulders, Colwell Law Group has lifted that stress in every aspect! My attorney, Amanda Iannone-Hens, has been very insightful and vigilant throughout my case. I'm very grateful for what everyone has done for me; from the first time I called looking for help in the little amount of time I had and until now I have nothing but gratitude for this firm and all they've done for me!
I like the starting process here. You don't have to pay a few hundred dollars initial consultation fee just to understand how the lawyers to handle your case. Instead, you meet with a very experienced customer relationship person to take the background information and arrange the legal support for you. I met with Linsey and very much impressed with her professionalism and compassion. She's knowledgeable, responsible, and cares. I'm happy with the experience.
Mon-Fri: 9am - 5pm
Sat & Sun: Closed
Nearby Divorce Lawyers in Albany: