Cornhusker Driving School
Cornhusker Driving School has provided driver safety training to over 6,000 students. Cornhusker Driving School is one of the Three Best Rated® Driving Schools in Omaha, NE.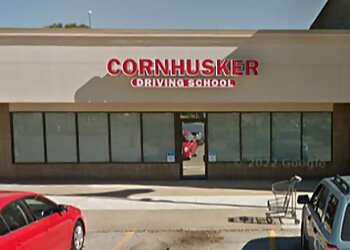 Dr. Patrick who is the owner continues to teach driver education at various Omaha schools as well as through his private classes offered by Cornhusker Driving School. The school's primary objective is to ensure driving excellence while catering to the unique needs of every learner. With a highly experienced staff that includes law enforcement officers and public school teachers, Cornhusker Driving School boasts a collective experience of over 100 years. Offering a diverse range of driver education classes, the school focuses on teaching proactive driving skills that enable students to identify potential hazards on the road and make informed decisions about the actions of other drivers. Upon completion of the driver's education course, each student receives a completion certificate, which can be used for insurance purposes. The comprehensive education provided equips students with the necessary skills to navigate safely in complex driving environments.
Defensive Driving

Traffic Controls

Pavement Markings

Right of Way

Lane Changing

20 Hours of Online Education

20 Hours of Class

Online Teen Driver's Ed

Driver Improvement

Drive Test Failure Courses

Parking Techniques

Accident Avoidance Training

Situational Awareness

Vehicle Control. Permit Practice & Road Test Services
This school was very good for me as a student to get comfortable and understand driving. While the learning part was rather dry and repetitive, driving was very easy going and relaxing. My instructor, Mr. Jimmy, was a very great instructor for me as he was calm and easygoing. He had a great personality and we often chatted while I drove. It's instructors like him that make learning such an important life skill much easier. Would recommend this school and instructor for drivers that are nervous to get on the road.
I loved class with Anna! She's very clear and straightforward with the instructions and curriculum. My driving instructor, Mr. Jimmy Chavez, helped me stay calm and relaxed on the road. Would definitely recommend, especially with apprehensive beginner drivers!
My driving instructor was Mr. Jimmy. Super nice guy, had extreme nervousness in the driveway before we started, Mr. Jimmy made sure to keep me calm and relaxed which helped me get through my driving hours faster than usual.
Approved Driver Safety Course $475
six hours of classroom instruction and six hours of driving instruction for $450
Other Driving Schools in Omaha: