DeLong's Driving School
DeLong's Driving School, under the ownership and operation of Dennis De Long, has been providing driver's education in the Omaha area since 1986. DeLong's Driving School is one of the Three Best Rated® Driving Schools in Omaha, NE.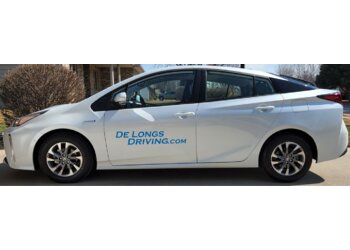 The school takes pride in its team of dedicated instructors who are committed to delivering high-quality training. Their training vehicles consist of the latest models equipped with safety features such as side curtain airbags, anti-lock brakes, and blind-spot side-monitored mirrors. For the convenience of their students, DeLong's Driving School offers pick-up services for the driving portion from various locations including residences, workplaces, and camps, as long as the distance is reasonable. Additionally, for customers interested in the On-Line Course, flexible dates are available. Situated at a convenient distance of 22.9 miles from downtown Omaha, DeLong's Driving School ensures accessibility for learners in the area.
Twenty Hours of Classroom Instruction

On-Line Education Course

Village Pointe Area

Residential

Light City Traffic Along with Expressways & Parallel Parking Driving Lessons
I a million percent recommend Mr.DeLong! Class was very informative and engaging, as well as easy to understand. The two instructors I had Mr.Graver and Mr.DeLong were patient and observant. Any questions you had they answered
The online classes for this business are super helpful and easy to follow along with. The instructors always give amazing instruction and help you follow along perfectly! Driving sessions are very safe and good experience.
Very kind and welcoming instructors that made me less nervous to drive! The zoom classes were very informative and definitely prepared me to pass my test. Highly recommend to any new drivers!!
Other Driving Schools in Omaha: