Zijian "Coco" Guan - BROWN, LLC
Zijian "Coco" Guan is a hard-working litigator who relishes fighting hard for her clients with assertive and passionate representation. Zijian "Coco" Guan - BROWN, LLC is one of the Three Best Rated® Employment Lawyers in Jersey City, NJ.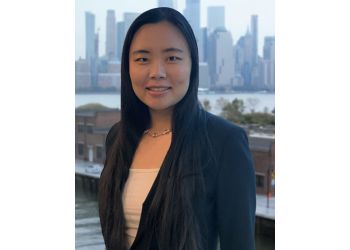 She graduated LL.M. (magna cum laude) from Fordham University School of Law and an LL.B Beijing Foreign Studies University School of Law. Zijian concentrates on employment law and class activities. She is a part of the American Association and the New York Bar. Ms.Guan is always ready for the battle for her clients. Brown, LLC law firm founded by Jason T. Brown. A retired FBI Legal Advisor and Special Agent. Their accomplished team of lawyers & staff led by a Former FBI Special Agent have successfully litigated consequences nationwide in state and federal courts, sometimes obtaining the maximum allowable relief. Brown, LLC works 24/7 and will field your queries or problems after hours or on weekends when it's most appropriate for you, the client. In addition, the firm proposes free consultations.
Whistleblower

Protecting Whistleblowers: False Claims Act (FCA)

Qui

Tam Retaliation

IRS

SEC

Common

Healthcare Scams

Employment

Cryptocurrency Whistleblower

Investigation of Parity Cryptocurrency Wallet Provider

State Qui Tam/Whistleblower Statutes

CFTC Whistleblower & Attune
All I wanted was a paragraph removed. He explained to me there was some other wording that I should be aware of. Although the company would not remove the paragraph entirely he was able to get it revised enough that it was acceptable. He also was able to negotiate an additional 8 weeks of pay that I didn't think was even possible. I delt with were professional, courteous and a pleasure to work with. They worked hard to get results that I am extremely pleased with. If I ever get into a situation that I would need their services again.
Being involved in litigation is, oftentimes, troubling, and stressful for the client. Zijian Guan put my mind at ease from the beginning. First and foremost, she is courteous and patient. Miss Guan took the time to listen to me and understand my frustrations and complaints. I never felt rushed. She took great care in attention to detail and making sure.
Zijian Guan was a fantastic lawyer who kept me well informed while I was a plaintiff on a large case. I had such an awful experience with my previous employer, I thought I would never find closure. Zijian Guan got me the money, justice, and closure I deserved. Thank you, Zijian Guan, for helping me have the last laugh.
Nearby Employment Lawyers in Jersey City: