Marla S. Barkoff, MD - INTEGRATIVE ENDOCRINOLOGY
Marla S. Barkoff, MD - INTEGRATIVE ENDOCRINOLOGY is one of the Three Best Rated® Endocrinologists in Chicago, IL.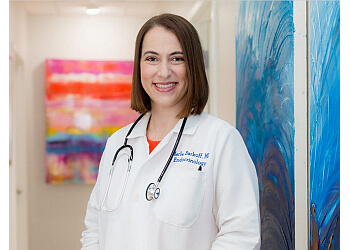 Dr. Marla Barkoff is an Endocrinologist with board certification and has amassed over a decade of experience caring for patients with thyroid disease. She earned her MD from the Boston University School of Medicine and completed a Fellowship in Endocrinology, Diabetes, and Metabolism at The University of Chicago. Dr. Marla specializes in providing comprehensive treatment for various aspects of thyroid health. Her approach is characterized by a unique blend of evidence-based medicine and compassionate individual care, focusing on enhancing the quality of life as a crucial aspect of thyroid regulation. As a volunteer with UNICEF, she devoted her time to studying the impact of iodine nutrition on thyroid health in Ghana, West Africa. Dr. Marla also served as an assistant professor of Clinical Medicine at the University of Illinois at Chicago. In 2016, she decided to establish Integrative Endocrinology after facing challenges in obtaining a diagnosis and comprehensive care for her own autoimmune diseases. Her vision was to create a practice where patients could receive attentive and empathetic care that addresses their concerns holistically. She considers it an honor to bring together her extensive clinical expertise and research experience to offer patients the possibility of hope and healing.
Autoimmune Thyroid Disease

Hyperthyroidism

Hypothyroidism

Thyroid and Pregnancy

Pre-Conception

Graves' Disease

Hashimoto's

Hormone Replacement

Mast Cell Activation Syndrome

Thyroid Nodules & Cancer
Dr Barkoff is the best. Period. A highly skilled and compassionate doctor who walks the talk. Sadly however, her policy of cash payment makes the treatment of mast cell disease, which is leaving me housebound and quote ill, unaffordable. Literally no other doctor in the area has her level of seasoned expertise. She was my physician when I could afford her. She got me back on my feet at one time.
Dr. Barkoff is a life saver for sure. She is so caring and responsive. My son has suffered with extremely challenging thyroid issues for years and her out of the box thinking has been amazing. She is so knowledgeable and has the best bedside manner ever. We recommend her highly!
Dr. Marla Barkoff is truly incredible. She is thorough, compassionate, preserving and honest. She is LGBTQ friendly and collaborative. She is someone you will look forward to seeing! Grateful she takes on complicated patients with a positive attitude.
Aetna Signature Administrators PPO, Humana National HMO, HealthLink PPO, Medicare, UHC Choice Plus POS, UHC Options PPO, UHC Navigate POS & UHC Navigate HMO
Mon,Tue & Thu: 9am - 4:30pm
Fri: 9am - 4pm
Wed,Sat & Sun: Closed
Nearby Endocrinologists in Chicago: