Peter DeBry, MD - NV Eye Surgery
Peter DeBry, MD - NV Eye Surgery is one of the Three Best Rated® Eye Doctors in Henderson, NV.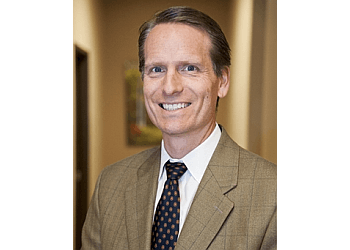 Dr. Peter DeBry stands out as a leading eye doctor in the field. After graduating from the University of Utah School of Medicine in 1996, he became board-certified and fellowship-trained. With an impressive track record of over 8,000 eye surgeries and laser treatments, Dr. DeBry is highly experienced and skilled. He is exceptionally well-trained in cataract surgery and is the first surgeon to perform a new technique for pediatric glaucoma surgery. Dr. DeBry's reputation extends to being the first surgeon in Las Vegas to execute various cutting-edge surgical procedures, solidifying his status as one of the foremost surgeons in Nevada for complex surgeries. Currently practicing at NV Eye Surgery, Dr. Peter DeBry operates in a facility equipped with state-of-the-art technology and collaborates with another skilled doctor. The clinic caters to patients of all ages, offering comprehensive eye care services. Notably, NV Eye Surgery proudly offers LASIK, Refractive Lens Exchange, and Implantable Collamer Lens in Henderson, further showcasing their commitment to delivering advanced and comprehensive eye care solutions.
Myopia

Hyperopia

Presbyopia

Astigmatism

Cataracts

Ocular Hypertension

Peripheral Vision

Diabetes

Near-Sightedness

Glaucoma

Cornea Transplant Surgeries

Multifocal Lens Implants

Infections

Inflammation

Macular Degeneration

Glasses

Contacts & Diabetic Retinopathy
I was extremely impressed with Dr. Debry and his incredible staff! Every aspect of my recent cataract surgery went very smoothly. Before going to Dr. Debry, I saw another local ophthalmologist who frankly struck me as being rather arrogant. So I thought that I would wind up going Los Angeles (again) for my medical care. Fortunately, I came across some very positive reviews of Dr. Debry. When I initially met Dr. Debry he seemed very genuine and down to earth. I am so very happy that I decided to have Dr. Debry perform the procedure. Dr. Debry is as good as it gets!
I have gone to Nevada Eye Surgery for 9-10 years now due to glaucoma and cataracts. I originally saw Dr. DeBry, then was moved to Dr. Kristal. Both are great doctors. I love that they explain things well and take the time to listen to your questions.
The entire staff is professional and personable. They consistently bend over backwards to present a welcoming and cheery atmosphere for Dr. Debry's practice.
Medicare, Blue Cross/Blue Shield, Cigna, Aetna, Culinary, UMR, Teachers, United Healthcare, Sierra Health and Life & TriCare
Mon-Fri: 8am - 5pm
Sat & Sun: Closed
Nearby Eye Doctors in Henderson: