Heartland Cremation & Burial Society
Heartland Cremation & Burial Society is a dedicated member of the local community, providing compassionate support to families in their time of mourning. Heartland Cremation & Burial Society is one of the Three Best Rated® Funeral Homes in Columbia, MO.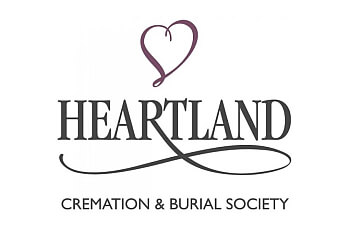 They offer grief resources to help with the ongoing healing process following the loss of a loved one. Their cremation services are affordably priced and conducted with the utmost respect, following strict regulations to ensure that the remains of your loved one are returned to your family. If you're not in immediate need, you can consider their preplanning services, where you can meet with their funeral planning team to document your wishes and even prepay for future services, easing the burden on your loved ones. The stunning funeral home of Heartland Cremation & Burial Society is located on Jackson Street in Columbia, MO. Contact them immediately upon the news of passing to begin planning. They proudly serve Columbia, Hallsville, Harrisburg, Rocheport, Boonville, Ashland, Hartsburg, Millersburg, Fulton, and Jefferson City.
Cremation with Memorial Service

Direct Cremations

Funeral

Burials

Pre-Need and Pre-Planning Funeral

Life Celebrations

Memorial Ceremonies

Caskets

Vaults

Memorials

Urns

Honoring Life

Grief Resources

Veteran Services

Military Honors

On-Site Crematory

Transfer to the Other States

Casket Rentals & Graveside Services
Joe and Hannah at Heartland were so incredibly kind and compassionate throughout the entire process. Before I called them I was so distressed at the thought of needing to arrange my mom's services. My mother passed suddenly and I hadn't even thought about end of life arrangements. Making end of life arrangements is never something we want to do or think about. But Heartland took a huge weight off my shoulders. I will forever be grateful to them. The team at Heartland eased my worries and made the entire process completely stress-free. They handled everything that needed to be done with the hospital. They were so prompt in answering my questions. I couldn't believe how fast they always responded. They worked incredibly hard to get everything completed in time for the memorial service. I can't thank them enough for everything they did for our family.
Very respectful and caring of our needs. We were treated w/ respect and compassion. They offered a service we didn't know about free of charge. A finger print of our loved one was taken B4 the cremation. For which you can get jewelry or anything made with the print on it.
Hannah was very helpful in planning the cremation for our loved one. We live in another state & she made a difficult time much easier for all of us. She treated us like family. I highly recommend Heartland Crematorium.
Simple Cremation: $1,195
Simple Cremation with Final Goodbye: $1,595
Cremation Followed by Celebration Service: $2,480
'open Casket' Viewing Followed by Cremation: $3,995
Simple Burial (casket Included): $3,36500
Modern Day Funeral (casket Included): $5,49500
Veterans Simple Burial (casket Included): $3,36500
Veterans Complete Funeral (casket Included): $5,49500
Nearby Funeral Homes in Columbia: