Parker-Millard Funeral Service & Crematory
Parker-Millard Funeral Service & Crematory is a family-owned Funeral home in Columbia, MO. Parker-Millard Funeral Service & Crematory is one of the Three Best Rated® Funeral Homes in Columbia, MO.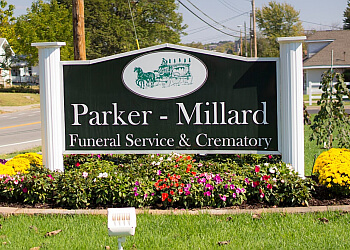 Reid A. Millard is the owner of this funeral home. He graduated as Valedictorian of Commonwealth College of Mortuary Service in Houston, Texas. At Parker-Millard Funeral Service & Crematory, their team strives to make their Funeral home feel like a second home to their families. Their facility has the features to give your family the best services possible, and they hope it brings you comfort during your time of need. They are firmly committed to accessibility and transparency. Their mission is to allow families through the careful adoption of technology and innovation while reducing the stress and environmental impact of traditional funeral practices.
Plan a Funeral

Obituaries

Cremation

Death Notice

Burial Service

Tributes & Floral Arrangements
Parker-Millard assisted with the services for both my parents. Their wishes were very different and our Funeral Director, Marti, assisted us with making sure each service was perfect. Communication throughout the planning process was excellent. The entire staff was friendly, professional, courteous, and went above and beyond to assist with every detail. After the services were over, they followed up to see how we were doing and assisted with ensuring the marker was ordered. Truly exceptional customer service. I would highly recommend Parker-Millard.
I couldn't be more grateful for what Parker-Millard did for the services of my husband Mike Woods Jr. They walked us through everything we needed to know and what we needed to do. They made an emotional process smooth because of their support and assistance. They respected our wishes and made it happen. My husbands funeral arrangements were absolutely wonderful!! They remained by our side every step of the way!! My husband was laid to rest beautifully and I will never forget what they did for our family!!!!
The Parker-Millard Funeral Service staff provided quality service and exhibited outstanding professionalism to my family during the passing of our dear mother. Nick and Marti were very kind, attentive and understanding to our family's concerns and needs. They were very supported from the handling of the transport, assisting with the planning and burial services to checking on our family days/weeks afterwards. Marti made the whole process seamless and worry free. Her guidance and grace was appreciated. We are deeply thankful.
Nearby Funeral Homes in Columbia: