POWER STRENGTH GYM
Power Strength Gym features a team of certified personal trainers who are prepared to assist and guide you in reaching your utmost potential. POWER STRENGTH GYM is one of the Three Best Rated® Gyms in Orlando, FL.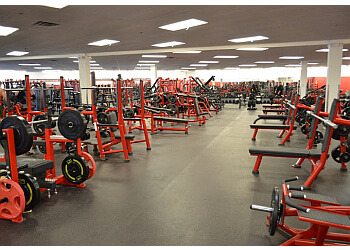 The gym is equipped with cutting-edge equipment, and its invigorating atmosphere, accompanied by motivating music, ensures that you stay motivated throughout every workout session. Power Strength Gym values the contributions of military personnel, policemen, EMT/paramedics, firefighters, and pro-athletes, offering them special discounts. Orlando residents can avail themselves of a first-day free pass, and new members receive a complimentary personal training session by appointment. The facility provides comprehensive locker room amenities and shower facilities for your convenience. By referring friends, you have the opportunity to earn a free membership. Enjoy the benefits of a monthly pass, and corporate discounts are available for companies with 10 or more employees.
Bodybuilding

Strongman

Barbells

Powerlifting

Weightlifting

Treadmills

Personal Training

Lat Pulldown Machine

Free Weights

Elliptical Machines

Cross-Training

Flat and Multi-Adjustable Benches

Cardio Equipment

Stair Masters

Dumbbells

Bench Press

Strength Training Equipment

Squat Racks

Lateral Raise Machines & Seated Leg Curl
I have been a member here for over 2 years & about a year ago it retained a new owner. Let me tell you now, the new owner LOVES this gym & dedicates some much time & energy into this place & as member you can tell. Employees are cleaning the gym everyday and they are also very nice and welcoming. Even at peak hours I can still get a complete workout in without having to wait for equipment. I will always recommend this gym rather than a commercial gym any day!
Lots of good equipment & I like that I can pay month to month as I only travel to the area for work. Nice to be able to work out in a REAL gym while on business trips. Staff was friendly and the atmosphere was cool!
Good gym for travel! Tons of equipment, old school feel, not everyone on their phones. Some of equipment is dated, need more hammer strength type, and a brand new set of IRON dumbbells...other than that...will enjoy my workouts here when I come to Orlando for work purpose
1 DAY PASS $15
1 WEEK PASS $30
1 Month $55
Automatic Monthly $39
Automatic Monthly "Weekend" $23
6 Months Membership $215
12 Months Membership $375
Mon-Sat: 5am - 12am
Sun: 6am - 11pm