Ray P. Kamali, MD, FACOG - KAMALI OBGYN
Ray P. Kamali, MD, FACOG - KAMALI OBGYN is one of the Three Best Rated® Gynecologists in Chula Vista, CA.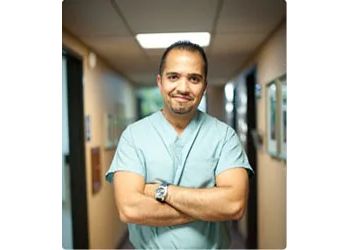 Dr. Ray P. Kamali is board-certified in obstetrics and gynecology in Chula Vista, CA. Dr. Ray P. Kamali earned medical school from Ross University. Dr. Ray P. Kamali did a residency at Staten Island University Hospital. Dr. Ray has a special interest in Minimally Invasive Gynecological Surgery. He also has specially trained in Da Vinci Robotic surgery. Dr. Ray P. Kamali provides the most advanced treatment in the field of minimally invasive gynecological surgery with a combination of evidence-based, safe obstetrics and gynecological care. Dr. Ray P. Kamali is the chairman of the Dept of OB/GYN at Sharp Chula Vista Medical Center. Dr. Ray P. Kamali holds privileges at Paradise Valley Hospital.
Family Planning

Pre-Pregnancy Visits

Infertility

Preconception Counseling

Birthing Options

Prenatal Care and Testing

High-Risk Pregnancy/Labor and Delivery Care

Routine and Yearly Examinations

Abnormal Pap Smear Evaluation

Osteoporosis

Perimenopause and Menopause

Urogynecology

Urinary Incontinence & Hysterectomy
Dr Kamali is an excellent doctor and surgeon. He performed my laparoscopic hysterectomy and helped me with getting it approved by my insurance. I've been seeing him for years and I would prefer To stay with him as long as he's in practice. He's amazing!
We are more than happy to be under Dr. Kamali's team care- from the staff to NP and Dr. Kamali himself. They made sure I will get the best care all throughout my pregnancy until I deliver my child. Never had bad experience.
excellent doctor, friendly respectful and very professional .
Aetna, Assurant Health, Blue Cross Blue Shield, Blue Cross Blue Shield of California, Blue Shield of California, Cigna, First Health (Coventry Health Care), Health Net, Health Net of California, Humana, Medicaid, Medicaid of California, Molina Healthcare, Multiplan, Sharp Health Plan, UnitedHealthcare & Wellpoint
Mon, Wed & Fri: 7:30am - 4:30pm
Tue & Thu: 8:30am - 5:30pm
Sat & Sun: Closed
Nearby Gynecologists in Chula Vista: