Elena Kareneva - Kareneva Law Firm PLLC
Elena Kareneva has been assisting Texas residents for over 25 years with their immigration needs. Elena Kareneva - Kareneva Law Firm PLLC is one of the Three Best Rated® Immigration Lawyers in Carrollton, TX.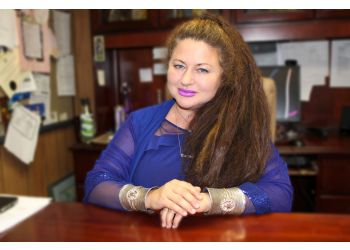 She received a full academic scholarship to Texas Tech School of Law in Lubbock and graduated Cum Laude as Doctor in Law (Juris Doctor) in 1997. Elena is fluent in Spanish, Bulgarian, and Russian. She considers herself a proud Mexican immigrant community member. Kareneva Law Firm, PLLC, provides immigration legal services in Dallas. Fort Worth Metroplex in Texas. Their Firm's Founder and Manager, Elena Kareneva, is a Member of the National American Immigration Lawyers Association ("AILA") and the local Texas-New Mexico AILA chapter. They provide the highest quality representation in all U.S immigration-related matters; their Firm strives to serve the clients with creativity, sensitivity, and diligence, three of the most important qualities that a good immigration lawyer should possess.
Adjustment of Status/Permanent Residence Processing

Asylum Cases

Business

Professional

Investor and Religious Worker Visas

Criminal Alien Issues

Deportation/Removal Proceedings

Labor Certification

Overseas Consular Processing

Student Visa & U.S. Citizenship
Attorney Elena Kareneva has the utmost dedication for the care of the people she serves. Her desire to help people is the most important to her and her wonderful person who work at the Kareneva law firm. Their respect for people that come to the Kareneva Law Firm is evident by the number people, and generations of family members, that walk through the doors. They assist people through the immigration process with respect and professional service. I would highly recommend this Law Firm to anyone seeking Immigration Services.
Elena is one of the most compassionate individuals I've had the pleasure of knowing. She goes way beyond helping her clients, and truly takes the time to understand their worries and serve her community. When I sought out her help, she provided me with expert advice and an objective perspective which no one else had been able to offer me before. Her services as a lawyer are invaluable, but her caring nature and endless efforts to make her clients happy are even more astonishing. Hands down the best lawyer out there!
Very good attorney and her staff they are always there for you from the being to end of your case and are on top of everything.They help you with any questions that you might have. I highly recommend her she is very honest before accepting your case . We are very thankful with her and her staff.
Mon-Fri: 9am - 5:30pm
Sat & Sun: Closed
Nearby Immigration Lawyers in Carrollton: