Decorating Den Interiors - Rittenhouse Designs
Decorating Den Interiors-Rittenhouse Designs is a company that focuses on creating beautiful and personalized decoration for their clients. Decorating Den Interiors - Rittenhouse Designs is one of the Three Best Rated® Interior Designers in Fort Collins, CO.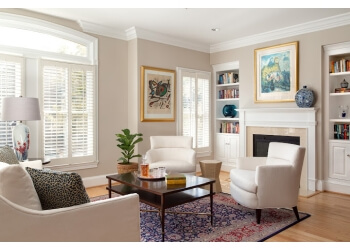 They pride themselves on their customized designs and exceptional service, bringing together carefully selected products that fit their clients' unique styles and preferences while staying within their budget and timeframe. With Decorating Den Interiors, clients can expect an easy and convenient design process, with the company guiding them every step of the way towards creating functional and stunning living spaces. Whether clients prefer traditional or modern designs, their team of experts is dedicated to creating spaces that truly reflect their clients' personalities and lifestyles. Decorating Den Interiors-Rittenhouse Designs is committed to making every room in their clients' homes more beautiful, one space at a time.
Interior Decorator

Home Decorator

and Designer

Custom Window Treatments

Upholstered Furniture

Bedding & Decorating Den Interiors
Penny was delightful and easy to work with through many tile selection projects. She has a wonderful eye for color, and was always willing to be creative, and design with new products. She succeeded in working within several different design aesthetics, and created beautiful palettes of tiles with interesting colors and textures.
Penny has worked with us on several projects for our homes and business. She has done a fantastic job guiding us through the design process. We highly recommend her.
Mon-Sat: 9am - 5pm
Sun: Closed
Nearby Interior Designers in Fort Collins: