The Sterling Seahorse, LLC.
The Sterling Seahorse is a top-tier interior design firm in Virginia Beach with a highly experienced team in the industry for 25 years. The Sterling Seahorse, LLC. is one of the Three Best Rated® Interior Designers in Virginia Beach, VA.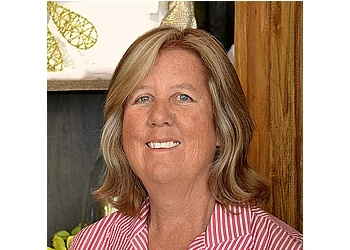 Cathy has become a successful interior designer with her eclectic life exposure and natural affinity for design and aesthetics. They specialize in creating unique, personalized spaces that reflect the client's individuality and style. The lead designer of The Sterling Seahorse is Cathy, who brings a wealth of personal experience and practical knowledge to each project. Their selection of products combines an Interior Designer's keen eye with redefined coastal lifestyle ideas, resulting in a mix of chic and distinctive furnishings. Furthermore, their team supplements the studio's offerings by providing an extensive selection of vendor lifestyle catalogs for clients to choose from.
Kitchen Remodelling

Renovation

Accessories

Space Planning

Furnishing

Bedroom

Living Room Design

Art

Floral

Lighting

Upholstery

Window Treatments & Wall Coverings
Cathy was so wonderful to work with. We were renovating our home and got her involved in the process to assist with some paint color decisions and with window treatments. She quickly developed a sense of our style and had great recommendations. She gave us the pros and cons for various choices and worked really hard to find just the right fabrics and styles. She also helped us pick out wallpaper for the foyer and powder room, and made a great suggestion for tile to be installed on the newel post of our entry stairway - never would have thought of it, but it looks great! We only wished we had gotten her involved sooner. But next time we definitely will!
Cathy Walsh is an amazing designer and has a "6th sense" when it comes to color and space planning. My husband and I remodeled our beach cottage unexpectedly this winter and Cathy came to the rescue! Space planning is her forte and she created an amazing kitchen and living space for our family. She chose wonderful colors for the wall and furniture as well. The space turned out better than expected and I would recommend Cathy Walsh for any job, large or small.
We worked with Cathy and her clients several times. Cathy has a great eye for color and design. She is the best person to work for all your interior designing needs.
Mon-Thu: 10am - 4pm
Sat & Sun: Closed
Nearby Interior Designers in Virginia Beach: