Caffé Molise
Caffé Molise stands as a comprehensive Italian restaurant offering a delightful culinary experience. Caffé Molise is one of the Three Best Rated® Italian Restaurants in Salt Lake City, UT.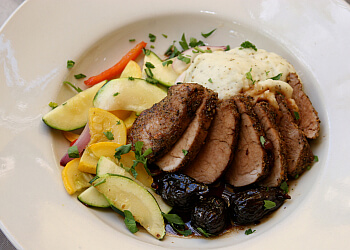 With an emphasis on utilizing fresh ingredients and regional specialties, Caffé Molise crafts delectable dishes that showcase the flavors of Italy. Guests have the option to enjoy their dinner in the inviting dining room or on the charming garden patio, allowing them to savor their meal in a serene outdoor setting. In addition to its impressive food menu, Caffé Molise boasts an extensive selection of wine, beer, and cocktails, ensuring that patrons can find the perfect beverage to complement their meal. For those seeking a bit of entertainment, the restaurant features live jazz performances by John Flander's Trio every Friday evening, adding a touch of musical ambiance to the dining experience. With its spacious patio, Caffé Molise is also an ideal venue for hosting various events, accommodating anywhere from ten to 200 guests. Whether you're looking for an intimate dinner or planning a larger gathering, Caffé Molise offers a memorable dining experience that combines delectable cuisine, a charming atmosphere, and a touch of musical delight.
MENU: Antipasti

Polenta Con Funghi

Insalate

House Salad

Spinaci

Piatti

Involtini Di Pollo

Gratella

Pollo Marsala

Pasta

Orecchiette Al Salsiccia

Penne Di Caprino

Lasagne

Gnocchi Di Patate

Spaghettini Pomodori

Dessert

Ny Style Cheesecake

Crème Brûlée

Caffé & Bibite
Best pasta in Salt Lake City! Every dish I tried was out of this world. The pasta and artichoke sauce were creamy and flavorful and was perfect with the grilled chicken. The gnocchi was so good. The creme brulee was beautifully made and the perfect ending to a great experience!Beautiful building with a warm atmosphere. Phenomenal service.
This is officially my new favorite Italian restaurant. The building is clean and well taken care of, and the service is excellent. Our server was always on top of getting our water filled, and he was energetic! Our appetizer only took about 2 minutes to get to our table, and the food only took about 10. Service is extremely fast, and the food is insanely good! Every bite has an rich flavor and all of it is excellent. Desserts was also insanely delicious. Amazing quality especially for the price. Will be going again! 10/10
Love this place. I've only ever been to BTG downstairs. But they were closed for a private event so luckily they had space for me up at the bar. I loved it. Dining room is gorgeous and the bartenders were amazing. The hosts greeted me politely. Prices are good and I love the wine list. Will definitely be back.
Polenta $9.95
Bruschetta Misto $13.95
Spinaci Insalate $13.95
Orecchiette al Salsiccia $14.95
Spaghettini Pomodori $14.95
Penne di Caprino $14.95
Polenta Con Salsiccia $15.95
Pollo alla Gratella $15.95
Gamberetti Insalate $17.95
Spaghettini Pomodori $17.95
Scampi alla Diavola $18.95
Lasagne $21.95
Pappardelle al Sugo $22.95
Lunch:
Mon-Sun: 11:30am - 3pm
Dinner:
Sun-Thu: 5pm - 9pm
Fri & Sat: 5pm - 10pm
Nearby Italian Restaurants in Salt Lake City: