Paradise Collection
Paradise Collection is a jewelry store nestled in the vibrant city of Honolulu, Hawaii. Paradise Collection is one of the Three Best Rated® Jewelry in Honolulu, HI.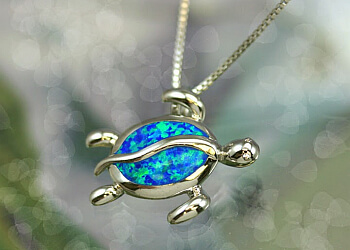 With a deep-rooted commitment to preserving the Hawaiian island tradition, they specialize in crafting exquisite Hawaiian Heirloom Jewelry that reflects the essence of Hawai'i and the pervasive aloha spirit. The art of Hawaiian jewelry has been cherished across generations, showcasing intricate engravings, romantic lettering, and unmistakably Hawai'i-inspired motifs. Within the Paradise Collection line, these motifs beautifully narrate the story of a life lived in the Islands. One can admire their delicate and enchanting plumeria flower design, exuding femininity and adorned with glistening diamond accents. There's the whimsical turtle design, capturing the playful spirit of the ocean. And, of course, there's the distinct heart design that is exclusive to Paradise Collection—a symbolic piece that celebrates love and embodies the everlasting spirit of the islands.
Yellow

Rose

Tri Color

Gold

Silver

Pearls

Gems

Bracelet

Bangle

Earrings

Pendant

Premium Designs & Rings
I ordered a bracelet and a pendent on a Friday and they arrived both engraved the following Thursday, simply beautiful. I live on the mainland. World class business, customer service I highly recommend Paradise Collection. Mahalo to all that serviced me you did a wonderful job, I'm greatly thankful.
I am very pleased with my online purchase and exceptional customer service. 14K tri-color plumeria ring is stunning and the dainty two-tone plumeria pendant is pretty and feminine. Ryan was awesome in answering my questions and providing excellent customer service. It is my pleasure to recommend Paradise Collection if you're looking for that special piece of Hawaiian jewelry for yourself or for a loved one.
Absolutely stunning! Fast delivery, and the quality of the product we ordered is outstanding. First time order, will be ordering many more! Mahalo!
Discount
5% Off for Kama'aina Customers ( Use Code: KAMA5%OFF)
Mon-Fri: 9am - 4:30pm
Sat & Sun: Closed
Nearby Jewelry in Honolulu: