Michael P. Marfori, DMD
Michael P. Marfori, DMD is one of the Three Best Rated® Kids Dentists in Orlando, FL.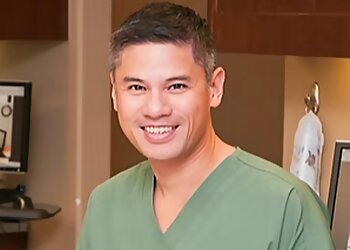 Dr. Michael P. Marfori is a highly respected pediatric dentist. He obtained his Doctor of Dental Medicine degree from the University of Medicine and Dentistry of New Jersey and a two-year pediatric residency program at the University of Florida, where he honed his skills in providing the most advanced pediatric dental care available. He offers complete dental care for children, infants, and adolescents. He is committed to providing positive dental experiences that help children develop excellent oral hygiene habits. His team shares his commitment to promoting good oral health, and they believe that early dental care is essential to achieving a lifetime of healthy smiles. They work to provide a positive and supportive dental experience for each child, helping to educate them on the importance of good oral hygiene and equipping them with the tool. They are devoted to providing the highest level of pediatric dental care and helping children develop a lifetime of healthy dental habits.
Infants New Teeth

Early Infant Oral Care

Examination

Teething

Oral and Conscious Sedation

Oral Hygiene

Brushing and Flossing Tips

Pediatric and Preventive Dentistry

Tooth Eruption and Decay

Healthy Diet

Nitrous Oxide

Crowns

Regular Checkup

Fluoride Treatment

Dental Sealants & Preventive Cavities
This was my second time bringing my son for his annual visit. Last year (2020) was his first visit. I am beyond happy with the results so far. The whole office staff is warm and welcoming, and Dr. Marfori is so patient and very thorough! He always asks if I have questions and when I do, he is more than happy to answer them. He's very knowledgeable. If you need a pediatric dentist for your little one (my son is a year and a half), don't hesitate to give them a call and make an appointment.
Dr Marfori and his staff were all excellent. My kids were new patients and enrollment was painless as well as the visit. The staff was very professional and attentive to kids to make them as comfortable as possible. The staff as well as the doctor were also very informative to everything going on to both myself and my kids. Highly recommended.
The staff was great! Doctor Marfori was great! They accommodated my son for an exam ( as a new patient) the same day. And even performed deep cleaning at the same appointment. And the work was amazing. Would highly recommend this facility.
Delta Dental PPO & Delta Dental Premier
Mon-Thu: 8:30am - 5pm
Fri: 8:30am - 12pm
Sat & Sun: Closed
Nearby Kids Dentists in Orlando: