Green Acres Landscape, Inc.
Green Acres Landscape, Inc. Green Acres Landscape, Inc. is one of the Three Best Rated® Landscaping Companies in Salem, OR.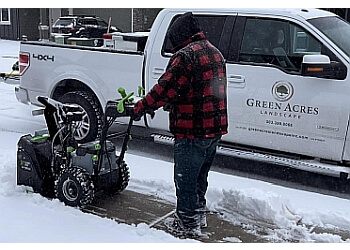 is one of the well-renowned landscaping garden companies in the Salem region. The landscaping firm has expertise in delivering prompt and authentic customer service, aiming to provide an exceptional, bespoke experience centered on craftsmanship, quality, and customer satisfaction. They cater to a wide range of landscape needs for residential, commercial, and industrial clients while being licensed, bonded, and insured to ensure a professional service. The team members are affable and strive to provide exceptional service, always putting the clients first. Moreover, they offer a comprehensive, scheduled lawn care plan to maintain the health and aesthetics of the customer's lawns.
Outdoor Kitchens

Design

Living Spaces

Fire Pits

Fireplaces

Led Low Voltage Lighting

Water Features

Creeks

Ponds

Fountains

Retaining Walls

Brickwork

Pavers

Patios

Walkways

Driveways

Decks

Pergolas

Arbors

Fences

Automated Irrigation Systems

Repair

Turf Installation

Leaf & Debris Removal
Have worked with Green Acres Landscape for business and personal. Outstanding commitment and performance on all jobs. The team transformed our entire yard full of dirt and weeds in front and back to beautiful lawn, flowers, and plants which turned out beautiful. Neighbors were amazed to watch the work performed! Great way to purchase a new home and meet neighbors too! Their maintenance plans are fabulous, and it shows how each employee takes care of your yard at all times with outstanding service. Thank you.
I use Green Acres for all of my commercial properties. From new landscape installation to ongoing maintenance there is no better outfit. The employees treat my property as if it were their own. Their attention to detail and knowledge of plants and products will make your property stand out. I can't recommend them highly enough.
They provide impeccable service at affordable prices. Thank you. Highly recommended!!
Mon-Fri: 8:30am - 4:30pm
Sat & Sun: Closed
Nearby Landscaping Companies in Salem: