David J. Akkara, DDS - Hillcrest Dental
David J. Akkara, DDS - Hillcrest Dental is one of the Three Best Rated® Dentists in Orlando, FL.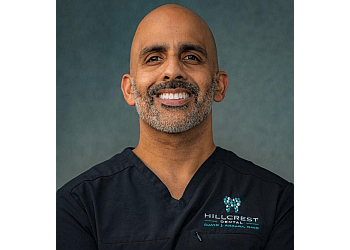 Dr. David J. Akkara is renowned as one of the finest dentists in Orlando, FL, and his journey in dentistry began at the Temple University School of Dentistry, where he graduated in 2006. To further hone his skills, he completed a one-year residency training program at Lincoln Hospital in the Bronx, NY. With a genuine passion for dentistry, Dr. David is committed to providing exceptional dental care to his patients with utmost compassion and patience. He understands that dental visits can be anxiety-inducing for some individuals, and to address this, he employs visualization techniques to help patients feel more comfortable and relaxed both before and during their appointments. Additionally, he utilizes distraction and relaxation methods during treatments to help reduce tension and make the patient's experience as pleasant as possible. Currently practicing at Hillcrest Dental, Dr. David J. Akkara ensures his patients' convenience with a flexible scheduling system, allowing them to easily book appointments that fit their busy lives. With his caring approach and dedication to providing personalized and comfortable dental care, Dr. David has earned the trust and admiration of his patients in Orlando, FL.
At-Home Teeth Bleaching

Infection Control

Occlusal Equilibrium

Porcelain and Composite Veneers

Tooth Restorations

Dental Implants

Crowns & Bridges
The absolute best dental office in Central Florida. Great staff, amazing personalities, gentle hands and recommend only what is in your best interest. I believe this year marks my 7th year as a patient. Love them so much that I get my cleanings every three months. If you aren't going every three months…you're missing out. They deserve 100 star rating.
My wife and I have been patients at Hillcrest Dental for the last few years. We originally found this office through searching online for a well rated dentist office after moving. Dr. Akkara and his staff have lived up to the high ratings. We have only needed our routine cleanings done (Sharon is a great hygienist) and no extra procedures, but that is also a testament in my view, as it seems so many dentist these days are quick to recommend additional procedures that aren't truly needed, and that does not seem to happen here. The front office staff always seem pleasant and helpful too.
I love this place! What an awesome experience. Starting with the initial wonderfully pleasant phone call, the immediate appointment, the adorable office, extremely pleasant staff (every single one I met), the state of the art equipment, Dawn's careful and gentle x-rays, and ending with Dr. Akkara. He made me feel comfortable and welcome. Took the time to explain his thoughts and findings. Very kind. I look forward to taking my entire family there for all our dental needs. Highly recommend.
Accepts Most Dental Insurances
Mon-Wed: 7am - 3pm
Thu: 7am - 6:30pm
Fri-Sun: Closed
Nearby Dentists in Orlando: