Mr. Rooter Plumbing of Will County
Mr. Mr. Rooter Plumbing of Will County is one of the Three Best Rated® Plumbers in Joliet, IL.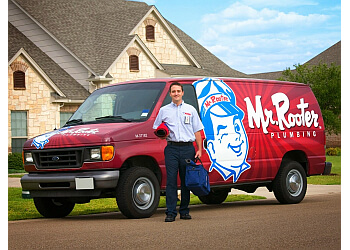 Rooter Plumbing of Will County, located in Joliet, IL, comprises a large network of independently owned and operated plumbing companies. They specialize in providing an extensive range of plumbing services for both residential and commercial properties. All technicians working with their team are licensed, insured, and have the required expertise to deal with plumbing problems of any size or level of complexity. Mr. Rooter Plumbing takes pride in completing the job accurately on the first attempt. They prioritize cleanliness by wiping their feet on mats, wearing shoe covers before entering your home, and providing a fair evaluation of your plumbing situation along with transparent cost estimates. Whether you're facing a broken toilet, damaged faucet, or burst pipe, their skilled plumbers are just a phone call away. They are available 24/7 to handle all plumbing repair emergencies, ensuring their assistance is always within reach.
Drain Cleaning

Clogged Drains

Frozen Pipes

Plumbing Replacement

Diagnosis and Inspection

Sewer System Backups

Sump Pumps

Tankless Water Heaters

Water Heater Installation

Grease Trap Repair & Hydro Scrub Jetting
Chris Burkhart was not only professional, respectful and informative— he was extremely patient and careful. He gave us so much insight on what was really going on in the sewer liner and our current state and situation. He was also very real and honest and that brought not only comfort but hope, assuring us that there's a solution for our issue. He showed us pictures of what he took while he was working! He fixed what he could and explained the rest very well and we truthfully couldn't have asked for a better, man! He was prompt, he was funny, cool, smart, and extremely real and wise! He's the man! Plan and simple!
Excellent service!! Did not have to wait, came on time as expected.. our technician Chris not only completed the job very quickly but was EXTREMELY helpful with information to prevent further issues.. was very patient with any questions we had and very thorough with info if we were to ever have any other problems. Made sure everything was running smoothly , highly recommend!!!
Cody is always super helpful and explains things to me. He changed out my toilet. I am so glad I went with a new one. It works so much better and no more clogs! He does a great job!
Nearby Plumbers in Joliet: