Anjelika Layco, MS, LMFT - ANGEL's COUNSELING
Anjelika Layco earned her master's degree in marriage and family therapy and counseling from California State University, Fullerton. Anjelika Layco, MS, LMFT - ANGEL's COUNSELING is one of the Three Best Rated® Marriage Counselors in Vancouver, WA.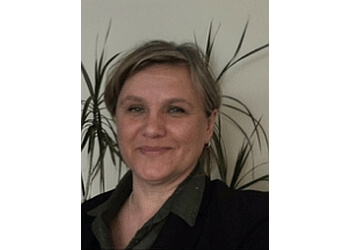 She received specialized training in Emotionally Focused Couples Therapy. With over 12 years of experience, Anjelika has been instrumental in helping numerous couples enhance the quality of their relationships and rebuild their lives. Her dedication and expertise were recognized when she received a professional promise award during her graduation ceremony. Anjelika Layco also provides counseling services to children and adolescents who have experienced trauma. She also specializes in assisting teenagers struggling with alcohol and drug addiction. Anjelika's counseling approach encompasses emotionally focused couples therapy, imago therapy, and the Gottman Method. To ensure accessibility for clients, Anjelika Layco offers online marriage and individual counseling services to residents of Oregon and Washington State. Her commitment to helping individuals and couples achieve positive outcomes is evident in her multifaceted and compassionate approach to therapy.
Online Marriage

Individual

Marital and Premarital Counseling

Marital Distress

Infidelity

Relationship Problems

Communication Skills

Child and Family Therapy

Anxiety

Grief and Loss

Trauma

Teen

Drug & Alcohol Addiction Counseling
Anjelika is a fantastic counselor. She's very positive and emotionally intelligent and insightful probably due to her many years of experience being a couple's counselor. I also want to say that her place of business is lovely. It's a cozy sort of den setup with comfy couches, soothing incense, water and tea, and plenty if tissues within reach! She creates a very welcoming environment to open up about your feelings. It's tough to be vulnerable if you aren't comfortable, but she provides comfort in spades! Overall I'm very grateful to have chosen to go to Angel's Marriage Counseling. I think it really helped.
Anjelika is one of the most incredible humans I know. She has a beautiful soul and is so generous in sharing her heart. I deeply appreciate her ability to face challenges with surrender and compassion as this is what makes her such an empowered and enlightened woman. I find myself inspired by her passion and creative essence with regard to her work and helping others. I hold much esteem and gratitude for her ability to connect on a level which enables me to experience great joy and inner strength. Her integrity and passion make her amazing at what she does.
Anjelika is one of the kindest and caring people I have yet to meet. I have known her for about eight years now. Her way of portraying sympathy, empathy, and compassion for others is empowering. She helped me get through some of the toughest times of my life. Anjelika has a beautiful soul and reflects that onto those who come encounter with her. Angelica taught me to love myself and to love others so that I can find peace and happiness. I would highly recommend Angelika as a therapist to any person in need!
Mon: 10am - 8pm
Tue-Thu: 10am - 9pm
Fri-Sun: Closed
Nearby Marriage Counselors in Vancouver: