Baya Mebarek, PsyD, LMFT - SAN DIEGO COUPLES & FAMILY THERAPY
Baya Mebarek is a licensed Marriage and Family Therapist certified in clinical hypnosis by the American Society of Clinical Hypnosis. Baya Mebarek, PsyD, LMFT - SAN DIEGO COUPLES & FAMILY THERAPY is one of the Three Best Rated® Marriage Counselors in San Diego, CA.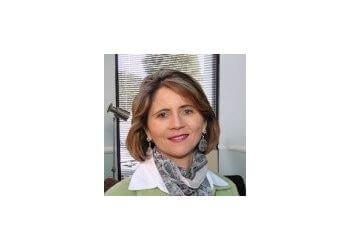 She possesses over two decades of counseling experience. She is dedicated to helping couples and individuals face their challenges and develop personal and relational skills and strategies. She is also specialized in treating anxiety and depression, Baya Mebarek remains informed about the latest research findings on effective mental health treatments and strategies. She is fluent in both English and French. Baya Mebarek practices at the San Diego Couples & Family Therapy, where you can schedule a complimentary 15-minute consultation. Additionally, teletherapy services are offered for your convenience.
Couples Therapy

Marriage Counseling

Premarital Counseling

Depression

Anxiety

Family Therapy

Co-Parenting in Divorce & Child Therapy
It's always said that it takes two people to make a relationship work. Reality is that it takes three people. Dr Baya has been able to consistently keep our marriage on track sometimes the things that we go in with seems so difficult and so damaging and yet when we leave it all seems so small in the bigger picture. We have been going to her for over two years and I credit, her expertise in the field of marriage counseling for the reason my marriage is not only still existing but much better than it would be had we not started seeing her.
I have collegially associated with Dr. Baya Mebarek for over two years. During this time she has demonstrated a keen sense of intuitive insight, a highly-ethical regard for her profession, and genuine regard for those she serves. Dr. Mebarek is gentle and strong. She understands people and knows how to help them find and live their best life. I am confident that she does and will provide incredible care to those she serves, and will build and hold trust and therapeutic alliance, and will safeguard clients' entrusted and protected confidential information.
I would highly recommend Dr. Baya. We have been using her services for a few months now and see progress after every session with her. She is the first therapist we've used that we feel truly cares about the issues of her individual clients and listens well, but can also give great advice when necessary. Other than being a great therapist, we feel she is also a wonderful person and very punctual, which I always appreciate.
Fee per Session: $185 - $200
Mon-Fri: 9am - 8pm
Sat: 9am - 5pm
Sun: Closed
Nearby Marriage Counselors in San Diego: