Kate Campbell, PhD, LMFT - BAYVIEW THERAPY
Kate Campbell, PhD, LMFT - BAYVIEW THERAPY is one of the Three Best Rated® Marriage Counselors in Fort Lauderdale, FL.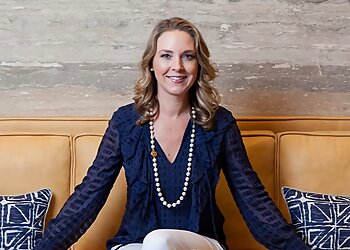 Dr. Kate Campbell has extensive experience in the counseling field, helping adults and couples to strengthen their relationships and live happier, more fulfilled lives. She is a Licensed Marriage and Family Therapist who has been working with clients since 2006 with an integrative approach (i.e., Gottman Method, Emotionally Focused Couples Therapy, and Solution Focused Therapy). Dr. Kate offers the highest level of personalized services to meet the requirements and expectations of her client's unique needs and goals. She founded Bayview Therapy-a counseling and psychology group practice in 2011 and has grown the team into 30+ clinicians located in Fort Lauderdale and Coral Springs, Florida. Contact Dr. Kate for your complimentary consultation.
Pregnancy

Prenatal

Postpartum

Trauma

Life Transitions

Grief

Child

Couples

Family

Marriage

Individual

Maternal Mental Health and Premarital Counseling

Addiction

Depression

Psychological Evaluations

Parenting Struggles

Relationship Discord

Work/Life Balance

Anger

Teen Therapy

Hypnosis & Hypnotherapy
"My supervision experience with Dr. Kate was exceptional. I looked forward to my bi-weekly sessions with her because I always left supervision feeling more confident in myself as a therapist. Supervision was more than just about mastery of clinical skills , but was a space to explore other topics such as self of therapist and professional development/leadership, just to name a few. I highly recommend Dr. Kate to other supervisees, especially those looking to be pushed to reach their potential."
I highly recommend Dr. Kate to individuals, couples and families looking for an excellent therapist. Dr. Kate has a unique knack for helping people identify and use their strengths to improve their relationships and overall wellbeing. You're in good hands!
Kate Campbell is an excellent therapist. I know clients are in good hands and will receive top notch care when I send referrals her way.
Individual Sessions: $140
Mon-Fri: 8am - 9pm
Sat: 9am - 5pm
Sun: Closed
Other Marriage Counselors in Fort Lauderdale: