Kelsey Riddle, MS, LMFT - Kelsey Riddle Therapy & Wellness
Kelsey Riddle is a licensed marriage and family therapist who graduated from Auburn University in 2016. Kelsey Riddle, MS, LMFT - Kelsey Riddle Therapy & Wellness is one of the Three Best Rated® Marriage Counselors in Nashville, TN.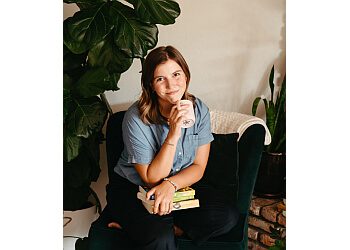 She offers Telehealth services to clients residing in Tennessee, Arizona, and North Carolina while conducting in-person sessions in East Nashville. Kelsey's therapeutic process is individualized, tailored to each client's unique needs. She integrates and customizes her approach to best serve her clients' circumstances. Kelsey's primary focus is assisting her clients in restoring connection and repairing their most significant relationships, particularly their relationship with themselves. She guides her clients toward cultivating new, healthy interactions and fostering deeper, more vulnerable connections. Kelsey is dedicated to helping her clients heal internal wounds by addressing past experiences and traumas. She specializes in various areas of therapy, utilizing empirically supported therapy models. Additionally, Kelsey Riddle offers free consultations, allowing individuals to discuss their needs and explore how she can support them on their journey toward healing and growth.
Animal Assisted

Couples

Groups

Emdr

Individual and Teletherapy & Relationship Issues
I'm so fortunate to have found Kelsey and have her as a consistent support system the last couple of years. She started as my couples therapist, and I maintained my therapeutic relationship with her individually after my divorce. I feel comfortable and safe to discuss anything with her. I appreciate her flexibility, and willingness to schedule additional sessions when I felt it was needed. I trust Kelsey and would recommend her to any of my friends or family!
I have seen Kelsey for multiple years and can wholeheartedly say that she's not just the best therapist I've ever worked with but also a key "tool" in my "toolbox" of self care. Kelsey takes the time to really connect and I truly feel so safe with her. I cant recommend Kelsey enough for any therapy support you are looking for.
My husband and I started seeing Kelsey before we got married. She was kind, compassionate, and has helped us tremendously. Kelsey taught us invaluable tools on how to have a healthy, safe, and happy marriage. We are so grateful we found some one like Kelsey.
Individual Sessions $150
Couple Sessions $170
Mon-Thu: 10am - 4pm
Fri-Sun: Closed
Nearby Marriage Counselors in Nashville: