Forté Music School LLC
Forté Music School LLC is one of Toledo's most prominent and best music schools. Forté Music School LLC is one of the Three Best Rated® Music Schools in Toledo, OH.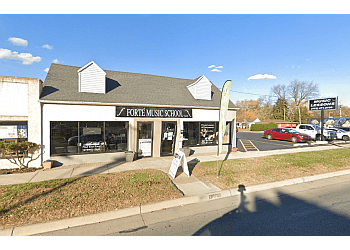 The music school offers in-person & online for all instruments, voice, stage presence, and musical theatre. Their lessons are suitable for all ages, from children and adults, beginners to advanced. Forté Music School LLC has 45+ experienced and dedicated teachers. They teach over 700 students to take lessons in Piano, Guitar, Violin, Voice, Drums, Flute, Trumpet, etc. Their music teachers are dedicated to learning about your musical goals and helping you achieve them. The academy is open seven days a week. They offer a wide range of available lesson times. In addition, they offer two free student showcases each year, plus many performance opportunities to their students. Forté Music School LLC has an extensive professional facility, a retail store, a comfortable waiting area, a large parking lot, observation windows on all doors, and a warm and friendly atmosphere that will immediately feel at home.
Trumpet

Trombone

Tuba

Euphonium

Saxophone

Drums

Flute

Recorder

Classical to Rock

Voice

Singing

Piano

Keyboard

Violin

Viola

Cello

Upright Bass

Guitar (electric

Bass

Acoustic

Classical)

Banjo

Mandolin

Clarinet & Oboe
I love my music class. My singing teacher is Darius and he's honestly super super cool and has been a straight up magician to my voice. I wouldn't choose any other teacher. He has taught me correctly and with patience. The school is wonderful and I'm happy I attend.
We have loved our time at Forte. the office staff is friendly and accomplished. The general atmosphere of the place is warm and inviting. Jim, our cello teacher, is very personable and good at communicating. He has been amenable to changes and helpful in every way. We love Forté and would not hesitate to recommend it
A great place to introduce our tiny people to piano! Miss. Katherine does an AMAZING job keeping our 5 year old engaged and interested during lessons.
30-minute lesson - $32.50 per lesson
60 minute lesson - $65 per lesson
30-minute lessons - $130 per month
60-minute lessons - $260 per month
Mon-Fri: 8:30am - 9pm
Sat: 8:30am - 3pm
Sun: 11am - 5pm
Nearby Music Schools in Toledo: