Dr. Saied Hashemi OD, - Castle Hills Eye Care
Dr. Saied Hashemi OD, - Castle Hills Eye Care is one of the Three Best Rated® Pediatric Optometrists in Carrollton, TX.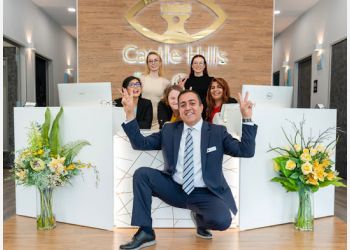 Dr. Saied Hashemi is a highly trained and experienced doctor of optometry who completed a Diplomate in the American Board of Optometry and has over 18 years of experience. In 2003, he graduated from Inter-American University in Puerto Rico and he is a Board Certified therapeutic optometrist. He has many Professional and Civic Memberships that include Texas Optometric Association, American Optometric Association, and The Colony High School Football Team Eye Doctor. Castle Hills Eye Care is dedicated to providing patients the most comprehensive eye exams throughout Carrollton. Their eye exams are designed to screen for diseases and identify any eye abnormalities. They also have a large selection of contact lenses and frames, with choices in styles, brands, shapes, and colors to suit every face and lifestyle. Their warm and trusted eye doctors provide personalized optical and medical eye care services to satisfy your family's needs at all age groups, from pediatrics to geriatrics.
Glaucoma Diagnosis and Management

Pediatric Eye Care

Gas Permeable Contact Lenses

Scleral Lenses

Multifocal Contact Lenses

Ocular Disease

Dry Eye Treatment

Comprehensive Eye Exams

Eye Condition Treatment

Lasik & Refractive Surgery Co-Management

Latisse

Your Eye Health

Eye Disease Management and Emergencies & Contact Lenses Fittings
I am a patient of Dr. Hashemi for about 5 years. He has proven himself competent and precise and thorough. He is patient and personable and goes to lengths to explain what he is doing and why. I was just diagnosed with glaucoma and he takes care to describe my treatment and prognosis. His staff is competent and friendly. They have all the latest equipment. All in all, a dynamite eye care center. I highly recommend.
Always a great experience coming here for my eye care needs. Extremely friendly and helpful staff! And they will get you in and out ASAP if you need. All while still remaining extremely courteous and professional. Certainly worth the hour + drive for me! Thanks Dr Hashiemi ! See you soon!
I visited castle hills eye care July 15 and was greeted by an extremely professional staff. Dr. Hashemi was friendly and I could tell he treated his customers and staff like they where the #1 priority. I walked out with 6 month supply of contact lenses at a reasonable price. Highly recommend!
Aetna, Blue Cross Blue Shield, Blue Cross Blue Shield of Texas & Cigna
Mon-Fri: 9am - 6pm
Sat: 9am - 3pm
Sun: Closed
Nearby Pediatric Optometrists in Carrollton: