Carrie Wijesinghe, MD - Siena Pediatrics
Carrie Wijesinghe, MD - Siena Pediatrics is one of the Three Best Rated® Pediatricians in Henderson, NV.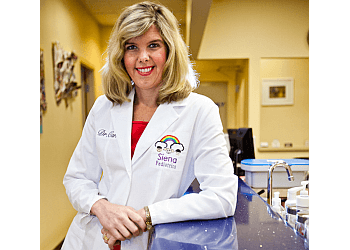 Dr. Carrie Wijesinghe is a highly regarded pediatrician in Henderson, NV. She is renowned for her expertise and exceptional care, with over 25 years of experience in the medical field. She is a board-certified pediatrician and the founder of Siena Pediatrics. Dr. Wijesinghe completed her medical education at the Medical College of Pennsylvania/Hahnemann, which was later rebranded as Drexel University School of Medicine in Philadelphia. She then pursued her pediatric residency in North Carolina, further enhancing her knowledge and skills. Specializing in General Pediatrics, Dr. Wijesinghe is dedicated to providing comprehensive healthcare for children. She is affiliated with the esteemed Dignity Health St. Rose Dominican-Siena Campus. Her office warmly welcomes new patients and offers telehealth appointments, ensuring convenient access to her services. Additionally, Dr. Wijesinghe accepts multiple insurance plans, providing flexibility and ease for patients seeking her expertise.
Injuries

Well-Child Visits

Immunizations

Adhd

Obesity

Asthma

Cough

Allergies

Abdominal Disorders

Newborn Care

Flu

Fever

Vaccination & Sports Physicals
Dr. Carrie is the best! She takes time to answer questions, cares so much about your baby, and is so knowledgeable with pediatrics. You're in the best hands possible by having Dr. Carrie as your pediatrician! Plus, the cutest office ever. She books fast so best to schedule appts out with her to make sure you get her.
We LOVE Siena Peds! My daughter has seen Dr. Rema since birth and she is so personable, great at answering questions, so kind, and knowledgable (not only with my baby but it calming my first time mom fears). We saw Carrie for the first time yesterday on an unscheduled visit due to a dog bite and she was also, kind, calm, and informative. I've never had issues with communication. The nursing staff is also so sweet and helpful. I have several friends that go to Siena Peds and have great experiences.
I have been with Dr. Carrie at Siena Pediatrics when our first born was born back in 2008, her office were referred to me by my Ob-Gyn while I was giving birth, hahaha. I didn't know that I needed an attending pediatrician, or maybe I did and it became a part of the "baby brain memory relapse phase" but there she was expecting our baby. We meet officially that night while she was doing her rounds and I said Yes, be my daughter pediatrician. So worth it because here we are in 2013; had another offspring back in 2011, living across town (20/30min drive) and Dr. Carrie and Dr. Lee are still our girls' pediatricians. Yes, there can be a wait at times but our girls are easily entertained with the books and the bright ocean murals painted in the front area, nursing station and in the check up rooms. The front counter, nursing staff are both friendly and willing to help in anyway – I love it when I walk in and the pen hasn't even hit the sign in sheet when they address me by my first name letting me know that the girls have been checked in. It's a wonderful office, I recommend it.
Beech Street (Multiplan), Blue Cross Blue Shield, Aetna, Affiliated Health Funds, Cigna, Coventry Health Care, Health Plan of Nevada, MultiPlan, PHCS, Triwest & UnitedHealthcare
Mon-Fri: 8am - 5pm
Sat & Sun: Closed
Nearby Pediatricians in Henderson: