Farahi Law Firm, APC
At Farahi Law Firm, APC, they pride themselves on being California's premier accident and personal injury law firm. Farahi Law Firm, APC is one of the Three Best Rated® Personal Injury Lawyers in Santa Clara, CA.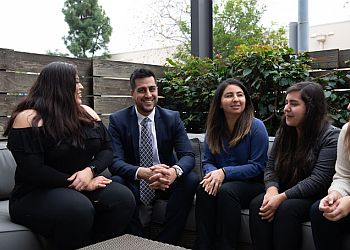 Their mission is to deliver top-notch legal services to their clients with a focus on cost-effectiveness and conscientiousness. When handling cases within their dedicated areas of practice, their attorneys take the necessary time to carefully devise and design effective legal strategies. Over the years, they have successfully recovered millions of dollars for numerous accident victims, providing them with the compensation they rightfully deserve. Their dedicated team will fight passionately to ensure you receive the necessary medical treatment and pursue the highest possible compensation for your case. For those seeking an exceptional attorney to handle their injury case, Farahi Law Firm, APC is the ideal destination. They offer a Free Consultation, allowing you to understand the intricacies of your injury or accident claim. Trust them to be by your side, advocating tirelessly on your behalf to secure the justice and compensation you need and deserve.
Car

Drunk Driving

Motor Cycle Accidents

Brain

Child Injury

Wrongful Death

Dog Bite

Back

Bicycle Injury

Slip and Fall Accidents

Pedestrian Accident

Defective Drugs

Uber & Lyft Car Accident Laws
Want to thank Farahi Law Firm for the exceptional legal representation they provided in handling my car accident claim. The team worked tirelessly to gather all the necessary evidence and document and my case manager kept me informed every step of the way. We were incredibly happy with how they handled dealing with the insurance companies on our behalf. They ensured we would receive the maximum compensation possible for our injuries and damages. We would highly recommend the services of this great law firm!
Farahi Law Firm comes highly recommended from me! They worked promptly and efficiently to ensure that my case moved forward after I was injured in a motorbike accident. They were eager to answer all of my inquiries and were really concerned about the result of my case. I appreciate all of their efforts! Thanks.!
I am so glad I found Farahi Law Firm Santa Clara. I was in a car accident and they helped me with every step of the process. They were sensitive to my needs and were very competent, trustworthy, and efficient. I really recommend them if you're looking for help with a car accident claim!
Justin for Justice Attorney of the Year in 2022
Nearby Personal Injury Lawyers in Santa Clara: