Henry M Hanflik - The Law Offices of Henry M. Hanflik
Henry M Hanflik was admitted to the Michigan Bar in 1969 and worked for the Michigan Court of Appeals before establishing his own law firm, the Law Offices of Henry Hanflik, in 1972. Henry M Hanflik - The Law Offices of Henry M. Hanflik is one of the Three Best Rated® Personal Injury Lawyers in Flint, MI.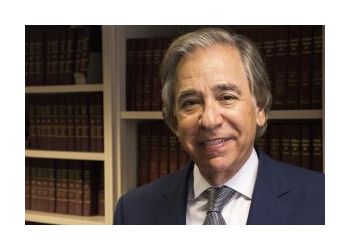 Hanflik earned his undergraduate degree in business from the University of Michigan (U of M) and is recognized by his peers for his lifelong dedication to representing people on issues of constitutional importance. With his ability to handle complex cases in both federal and state courts, Hanflik has gained a reputation as one of the most successful and respected attorneys in Michigan. Specializing in wrongful death and injury cases, he has achieved settlements and verdicts exceeding $100,000,000. For over 35 years, the Law Offices of Henry M. Hanflik have provided legal services to clients throughout Michigan and the United States, focusing on handling cases involving severe personal injury and wrongful death.
Car

Truck

Motorcycle

Construction

Airplane

Bicycle

Boating

Defective Road

Workplace and Industrial Accidents

Automobile

Trucking Negligence

Injuries

Wrongful Death

Premises Liability

Slip & Fall Injuries
I highly recommend this firm for anyone who needs a lawyer was highly satisfied with there work, always reached out when needed explained things when they needed to be explained both Mr.Hanflik & Mr.Brown were very nice very helpful the "Edward Jones" of lawyers top notch service, can NOT thank them enough for there work for getting me through my car accident. Both receptionists were amazing as well super nice super polite even they reached out when needed.
Went to the law offices of Henry Hanflick years ago he was good then and even better now heard a lot of good comments over years, he's your go to attorney!
After consulting with this firm my negative bias regarding attorneys has been reversed. Respect, patience, wisdom, and integrity are all words that embody this firm. I truly appreciate your help and attention in my civil matters. Thank you.
Nearby Personal Injury Lawyers in Flint: