Michel J. Rouhani
Michel J. Michel J. Rouhani is one of the Three Best Rated® Personal Injury Lawyers in Santa Clara, CA.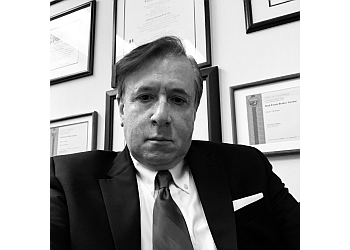 Rouhani is a highly esteemed personal injury attorney based in Santa Clara, CA. Accredited by the Consulate of France in San Francisco, he serves the legal needs of the French community in the Bay Area. With an impressive career spanning 29 years, Michel has represented a diverse range of clients, including Businesses and Individuals, Plaintiffs and Defendants, and Debtors and Creditors, in both State and Federal Courts. Michel possesses extensive expertise in personal injury law, delivering outstanding results in litigating complex claims against major insurance companies, large corporations, and government entities. His unwavering dedication is focused on achieving the best possible outcomes and compensation for his clients. Whether it involves recovering damages for injuries, past and future medical expenses, pain and suffering, lost wages, or other losses, Michel tirelessly pursues justice in every case. Over the years, Michel has demonstrated his proficiency in handling numerous cases to successful resolutions, making him a trusted advocate for those seeking legal representation in personal injury matters.
Automobile

Truck

Motorcycle

Bicycle

Bus

Train

and Pedestrian Accidents

Slip and Fall Injuries

Premises Liability

Uninsured and Underinsured Driver Cases

Hit and Run Cases

DUI Personal Injury Cases

Intentional Vehicle Injury Cases

Personal Injury Litigation & Insurance Bad Faith Litigation
Michel Rouhani is one of the top lawyers in the San Jose and S.F. areas. Whenever I need to refer anyone to a lawyer in Northern California in the area of personal injury or civil litigation, Michel Rouhani is my attorney of choice for a referral. All of my referral clients have been extremely satisfied with Mr. Rouhani's representation. He is incredibly effective, knowledgeable, and caring.
Michael Rouhani is, without a shadow of a doubt, one of the best lawyers I have met over the past few years. Extremely clever, his legal experience added to his exceptional analytical skills are the kind of expertise you do not want to miss when dealing with legal related issues. His dedication to his clients as well as his integrity is simply exemplary. I highly recommend Mr. Rouhani.
Michel J. Rouhani is an experienced attorney, who is well respected in the legal community, and is a zealous advocate for his clients.
Mon-Fri: 9am - 5pm
Sat & Sun: Closed
Nearby Personal Injury Lawyers in Santa Clara: