Natura Pest Control
Natura Pest Control is a premier pest control company offering superior-quality pest control solutions in Vancouver. Natura Pest Control is one of the Three Best Rated® Pest Control Companies in Vancouver, WA.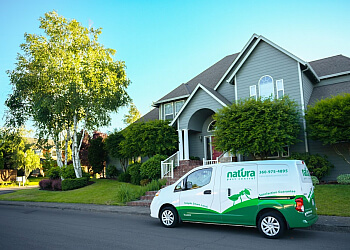 The company is proud to be recognized both locally and throughout the industry as expert in pest control. They offer residential and commercial pest control services. They have experienced and highly-trained technicians, including two on-staff Associate Certified Entomologists. Natura Pest Control uses less toxic-free with harmless chemicals. Their certified technicians and top-of-the-line items defend the home from unwanted pests. Their highest contribution is to ensure complete and absolute customer loyalty. Natura Pest Control offers free estimates. Natura Pest Control also serves in Portland.
Bed Bugs

Ants

Aphids

Boxelder Bugs

Bees

Black Widows

Cockroaches

Earwigs

Fleas

Flies

Gophers

Mice

Rats

Mosquitoes

Moths

Silverfish

Sowbugs

Spiders

Beetles

Carpet Beetle

Termites

Ticks

Yellow Jackets & Wasps
I can't speak highly enough about the team at Natura. I was finding an unidentified bug in my home. The girls in the office took my call and went above and beyond. They had me send a photo so they could have it analyzed and then called me back to reassure me it was a beetle. Next Aaron came out and collected a sample of the beetle to research exactly what kind it was so they could treat for it properly. While he was collecting the sampler he did and outside inspection and found where this beetle was coming from. This is all before I ever signed up. Once they followed up with me and showed me their plan I already was going to say yes because of the incredible service I had already received. Their quote to the solution was very fair in price also! Next Blake came out the following day and treated the exterior and the beetles were gone within a day of that treatment! At my convenience Zane came and treated the interior. He answered all of my questions, addressed all of my concerns & even educated me on these ants I have been seeing. He treated for the ants and spiders and beetles for good measure. This company went above and beyond for me. I am so thankful everyones kindness and quick solutions! The team at Natura is simply the best!
Conner came out to our office once for an initial ant extermination and then a follow up treatment per our package. Both times he was friendly and knowledgeable. Took the time to explain what the treatment does how it works and did all of this in a timely professional manner. He was very personable as well. Definitely recommend Natura. We have no more sugar ants!
We called Natura Pest control to help us get a handle on the ant problem we have been having. Vince Labarbera did an amazing job explaining the process and placing the product. He was quick, professional and friendly. We will definitely be using them in the future! Thank you again Vince!
Mon-Fri: 8am - 5:30pm
Sat: 8am - 2:30pm
Sun: Closed
Nearby Pest Control Companies in Vancouver: