Pointe Pest Control
Pointe Pest Control is one of the leading independent pest control companies in Vancouver. Pointe Pest Control is one of the Three Best Rated® Pest Control Companies in Vancouver, WA.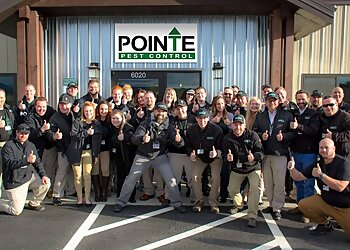 They offer services to both residential and industrial customers. Their service and dedication to the customers are exceptional. All of their technicians are fully licensed and insured. Pointe Pest Control uses the latest technologies to provide customized solutions. They thoroughly inspect your home to identify the pest and handle advanced to intermediate infestations. They are committed to collecting fundamental principles that include leadership, commitment, honesty, and quality. Their team members are committed to providing their clients with the highest standard of support. Pointe Pest Control offers free estimates for your peace of mind.
Bed Bugs

Ants

Rodents

Stinkbug

Carpet Beetle

Cockroaches

Spiders

Termites

Wasps

Stinging Insects

Ticks

Centipedes

Millipedes

Earwigs

Silverfish

Crickets

Box Elder Bug

Clover Mites

Mosquitoes

Springtails

Fleas

Indian Meal Moth

Hornets

Mud Daubers

Cicada Killers

Rats & Mice
No one wants to deal with ants issue. It's a never ending headache. I'm a first time mom who just moved to Oregon from Denver two weeks ago. Ants is not something we see in denver. Yes, I have a child who makes a mess but I was vacuuming and sipping 3-4x/day. I used vinegar and water and sprayed everywhere. I've tried everything the internet suggested at home. It wasn't until Ryan and Glen who came to the rescue can I stop having these ants nightmare or feeling like they're all over my skin. They are both extremely professional. From setting up an appt to discussing any side effect, explaining expectations, recommending suggestions, and making this first time mom feel safe, I would recommend them both in a heart beat. They were very thorough with the work. They were very courteous and respectful of my home. Above all, they were understanding of my dogs and my little one. I have nothing but praises to say about them!!
We had a ton of ants suddenly appear all over our bathroom and decided to give Pointe Pest Control a call instead of trying to handle them on our own. They were able to send someone out that same day at a reasonable price! I am very happy with the service, and appreciate the thorough inspection and treatment. I'm looking forward to future services to keep these ants at bay. Thank you Isaiah!
Cristian came to do our quarterly pest spray and while he was here I spoke with him about some concerns I had with other pests. Not only did he walk me through what PPC could do, he did a thorough inspection of our home, including checking our crawl space! He was helpful, kind, knowledgeable, and efficient. PPC and Cristian's customer service are above and beyond! Thank you!!
Mar-Sep:
Mon-Fri: 7:30am - 6:30pm
Sat : 8am - 5pm
Sun: Closed
Oct-Feb:
Mon-Fri: 8am - 5pm
Sat: By Appointment
Sun: Closed
Nearby Pest Control Companies in Vancouver: