Style Mutt-Dog Boutique & Daycare
Style Mutt-Dog Boutique & Daycare has a wealth of experience in the pet industry, having served as the president of PetZon, a renowned Cleveland pet products manufacturer, for five years. Style Mutt-Dog Boutique & Daycare is one of the Three Best Rated® Pet Grooming in Cleveland, OH.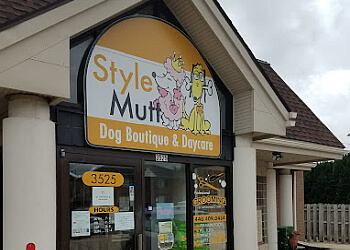 Pam Alerine is the owner of the shop. This background has given her a deep understanding of the needs of both pets and their owners. Style Mutt-Dog Boutique & Daycare focuses on providing great individual attention, love, and playtime for your furry companions. They exclusively utilize special shampoos tailored to address various concerns, such as fleas, oatmeal, and medicated options, ensuring the well-being of your pets' skin and coats. They offer an array of toys, supplements, collars, and clothing items to cater to your dog's needs. Style Mutt proudly features dog food and treats made in the USA, emphasizing the quality and safety of its products. Their salon provides one-on-one consultations, allowing personalized attention and addressing specific concerns you may have about your dog's grooming requirements. All dogs are warmly welcomed at Style Mutt Dog Boutique. They have extensive experience working with dogs of various sizes and are equipped to meet all your grooming needs.
Bathing

Brushing

De-Shedding Treatments

Nails Clipped or Dremeled

Ears Cleaned & Custom Haircuts
I added some updated photos. My dogs love to be groomed here! I have been taking my 2 older dogs here for years, now my puppy goes too. All of my dogs were fitted for their harnesses here. The owner and staff truly love and take great care of every animal who comes here. I would give them 10 stars if I could.
I can't say enough good things about Pam and the staff at Style Mutt! Oakley has been to Style Mutt a few times, mostly to get his nails trimmed and his "grinch feet" cleaned up (and they do a fabulous job). Today, he went for a full grooming appointment, haircut, and de-shed. Brittany did a fantastic job and made him look so handsome! They really went above and beyond to make Oakley comfortable and give him a great experience during his first full grooming appointment. And as always, Oakley enjoyed his goodie bag at the end.
I had my first experience today getting my dog groomed. From beginning to end, I really enjoyed and was impressed by the overall way they handle things I was greeted promptly and met with my groomer to discuss the haircut. I'd like for my goldendoodle. Upon picking up my dog, the groomer give me a debrief on how she did, and I could not be more pleased with the overall haircut and grooming that she received. I also met the owner, and she gave me a full tour of the facility. Highly recommend!
Mon-Fri: 7am - 5pm
Sat: 9am - 5pm
Sun: Closed
Nearby Pet Grooming in Cleveland: