Michael D'Amelio, PT - PHYSICAL THERAPY SPECIALISTS
Michael D'Amelio has established a remarkable reputation as a physiotherapist, consistently delivering exceptional services since 2002. Michael D'Amelio, PT - PHYSICAL THERAPY SPECIALISTS is one of the Three Best Rated® Physical Therapists in Orlando, FL.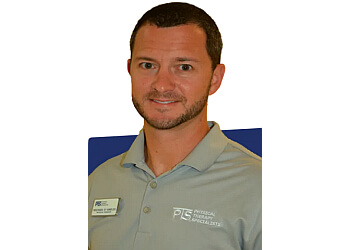 He graduated Summa Cum Laude from UCF in 2001 with a Bachelor's degree in Health Sciences, followed by a Master's degree in Science in Physical Therapy in 2002. Michael holds certifications as a Strength and Conditioning Specialist and Orthopedic Manual Therapist. He also underwent additional training in SASTM (Sound Assisted Soft Tissue Mobilization). His primary focus lies in helping his patients achieve optimal recovery by providing high-quality care within a warm, accommodating, and friendly environment. Michael takes pride in offering hands-on treatments to the majority of his patients, emphasizing the importance of personal attention. As one of the founding partners of Physical Therapy Specialists, Michael D'Amelio and his colleagues are driven by a shared mission to deliver rehabilitation services in a professional and compassionate manner.
Post-Op for Shoulder Injuries

Knee Injuries

Long Term or Short Term Mobility Issues

Strength Training

Hip Replacement Recovery & Sports Injury
I had been having pain in my lower back and down my leg for months. No pain medicine made it go away. I thought it was something that I had to live with. Finally, the pain was too excruciating and I sought out help. My pain has been gone after only 1 visit! I've been going for several weeks but I doubt I even need to anymore. They provide me with the exercises I should be doing and I can do them at home. I wish I would have gone months ago. I've seen Dylan and Michael. They are knowledgeable, professional, helpful, and friendly. I've already recommended PTS to my friends.
If you want to heal safely, this is the place to go! When I first started there, I wasn't able to walk due to ankle surgery. I had to do an extended period of time of therapy in order to be able to walk, and they did not give up on me. This summer, I was able to do moderate hikes and see waterfalls I would not have been able to prior to their help. Thank you, Dr. Mike and Natalie, for not giving up on me and helping me to get to where I am now!!! I highly recommend Physical Therapy Specialists Downtown in Orlando!!!
Knowledgeable, patient and kind. When I need to go to PTS, I get nothing but friendly attention from Michelle to Ari! Everyone there does a great job!
Mon-Thu: 8am - 6pm
Fri: 8am - 5pm
Sat & Sun: Closed
Nearby Physical Therapists in Orlando: