Paul Vissers, PT - VISSERS PHYSICAL THERAPY
Paul Vissers is a seasoned physical therapist practicing in Orlando, FL. Paul Vissers, PT - VISSERS PHYSICAL THERAPY is one of the Three Best Rated® Physical Therapists in Orlando, FL.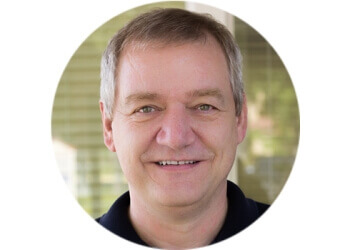 He obtained his physical therapy degree from the Academy for Physical Therapy in the Netherlands, demonstrating his international expertise. With over three decades of experience in the field, Paul possesses a wealth of knowledge and skills. He specializes in various areas, including sports-specific rehabilitation, joint replacement rehabilitation, geriatrics, and work-related injuries. Currently, Paul practices at Vissers Physical Therapy, providing exceptional care to his patients. The clinic offers personalized one-on-one physical therapy, occupational therapy, and speech therapy services. The clinical team at Vissers Physical Therapy is dedicated to treating individuals of all ages with injuries and disabilities. They incorporate the latest research findings and advancements in physical medicine to ensure the highest quality of care. Beyond rehabilitation, Vissers Physical Therapy also emphasizes overall wellness.
Orthopedic

Sports Rehabilitation and Conditioning

Spine

Advanced Manual Therapy Techniques

Pediatric

Work-Related Injury Treatment

Deficiencies in Gait And/or Balance

Knee

Hip

Shoulder Replacement Rehab

Home Exercise Programs

Geriatric Rehabilitation

Cross Fit Training

Hand Therapy & Custom Splinting
Vissers has been a gift to me that I can't even explain. I was referred to Dr. Paul for pain in my neck and shoulders, and he has worked wonders for me. The movement in my neck that I have regained, as well as the strengthening of my neck and shoulders, has been a noticeable improvement throughout my everyday. And this change has also helped with my headaches! Dr. Paul and Elise at the front desk are simply the best. I'm beyond grateful for how well they have taken care of me from the first time I spoke with them on the phone. Cannot recommend them enough!!!
Rena Bissessar was absolutely the best in helping me after my knee replacement surgery. She pushed me beyond my capacity and helped me to be on my feet within a week!! Everyone at Vissers Physical Therapy made me feel very comfortable! Paul and Liz were also very helpful. This is my second time after surgery and they are always my first choice! I would definitely recommend them to anyone. Thank you!
Absolutely the best. Worth the hour drive for the results. I'm now a believer. Elise and Paul make you fedd egg l so welcome.
Mon-Fri: 8am - 6pm
Sat: 8am - 12pm
Sun: Closed
Nearby Physical Therapists in Orlando: