Sammy Sinno, MD - TLKM Plastic Surgery
Sammy Sinno, MD - TLKM Plastic Surgery is one of the Three Best Rated® Plastic Surgeon in Chicago, IL.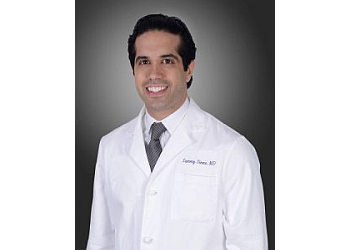 Dr. Sammy Sinno completed his medical degree at the Loyola University of Chicago, followed by a surgical research fellowship at Northwestern and a plastic surgery residency at New York University Medical Center. He has gained national recognition for his significant contributions to cosmetic plastic surgery. Dr. Sinno offers his patients a comprehensive range of surgical and nonsurgical procedures. His expertise and dedication to aesthetic surgery are evident in his extensive research and numerous publications, establishing him as a respected thought leader among young plastic surgeons in the Chicago area. With a focus on procedures such as facelift surgery, rhinoplasty, breast augmentation, tummy tuck surgery, and fat grafting, Dr. Sinno has garnered national recognition through his authorship of nearly 50 manuscripts in cosmetic procedures. Dr. Sammy Sinno's commitment to advancing the field of aesthetic surgery, combined with his exceptional clinical skills, sets him apart as a leading practitioner in Chicago. His contributions to research and publications reflect his passion for providing the highest standard of care to his patients and staying at the forefront of advancements in cosmetic plastic surgery.
Breast Augmentation

Reduction

Lift

Reconstruction and Implants

Mommy Makeover

Male Breast Reduction

Labiaplasty

Arm

Butt & Thigh Lifts
I am 1 month post-op from my rhinoplasty with Dr. Sinno and I couldn't be happier! I have always wanted to get my nose done and I've seen a few doctors in the Chicago land area previously, but never followed through with any them. Once I met Dr. Sinno for my consultation, he immediately made me feel at ease and comfortable. He made me feel like I could trust him 100%, and I did not feel that when meeting with any of the other surgeons. He is super nice and was always there whenever I had any questions or concerns both during my pre-op and post surgery. I am so happy with my results and I know as time progresses, my results are only going to get better! I would definitely recommend him to anybody who is thinking of getting a Rhinoplasty. Dr. Sinno is the best!
Dr Sinno and all of his staff are amazing. His bedside manner is unmatched - you can tell he truly cares about his patients and takes the time to listen to their concerns. He went over everything about my rhinoplasty in detail, and my results were just as we expected. His calm demeanor and meticulous approach to patient care erased any doubts or nervousness I may have had about the procedure itself. I highly recommend him for your procedures.
I had a rhinoplasty with Dr. Sinno 4 months ago and absolutely loved his work! I can't wait to see the final result. It was very natural yet improved my front and side profile immensely. He was very thorough and informative all throughout the process. Our meeting were also very personable and comfortable- the bedside manner was truly unmatched.
Mon, Wed, Thu & Fri: 8:30am - 5pm
Tue: 8am - 6pm
Sat & Sun: Closed
Nearby Plastic Surgeon in Chicago: