Dr. S. Don Kim, DPM - KIM HOLISTIC FOOT & ANKLE CENTER
Dr. S. Don Kim, DPM - KIM HOLISTIC FOOT & ANKLE CENTER is one of the Three Best Rated® Podiatrists in Long Beach, CA.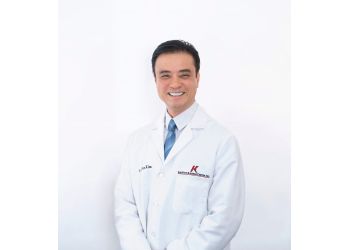 Dr. S. Don Kim, DPM completed his Doctor of Podiatric Medicine degree at the California College of Podiatric Medicine, San Francisco, CA. He also completed his residency at Jerry L. Pettis Memorial Veterans Hospital, Loma Linda, CA. The doctor offers a broad range of services to treat foot and ankle problems, including bunion, ingrown nails and fungal nail infections, arthritis, and diabetic foot pain management. He provides diagnostic services such as radiography (x-rays), peripheral vascular analysis (flocked), and computerized fluoroscopy (orthos can). Dr. S Don Kim is also the president of the Kim Foot Foundation and can communicate fluently in English, Japanese, Korean, and Spanish. The specialist is affiliated with Long Beach Memorial Medical Center and St. Mary Medical Center in Long Beach, CA.
Ankle Sprain

Cuboid Syndrome

Stress Fracture

Biomechanical Problems

Ganglion Cyst

Ankle

Toes

Arches and Heels

Diabetic Foot

Neuropathy

Pediatric

Warts

Ulcers

Laser Treatment for Toenail

Haglund's Deformity

Plantar Fasciitis

Pediatric Flatfoot/Talipes Calcaneovalgus

Injury Recovery & Arthritis
I have a neuroma, heel pain and a pain on bottom of my right foot. Dr Kim managed my pain and he sent me to physical therapy. I was really helpful. I do not need to have a surgery and no more injections. Dr Kim is a good listener, girls are friendly. Good place.
Dr. Kim helped at me with my toe fungus, that I caught at the nail salon getting a pedicure. So, he prescribed topical or my toes. Dr. Kim also helped my husband with his heel pain, and now he's a lot better and able to walk more comfortably. The staff here is great, they're wonderful, everyone is very nice very attentive. It's also very easy to get good supplements from his office.
Best foot doctor in southern California! Dr. Kim is so inspirational through his daily word emails, most educated podiatrist in Long Beach. I love being part of his annual shoe drive for people in need of shoes. It takes a lot of organizing, preparation and resources to put his successful shoe drive together. I truly appreciate his dedication. Dr. Kim is a blessing from GOD. My feet, thank you so much!
AARP, APWU, Caterpillar, Cigna, Aetna, Consolidated Health Plans, Corvel, Geoblue, Health Net, Medicare, Memorial Hermann, Multiplan PHCS, Unitedhealthone & Unitedhealthcare
Mon-Fri: 9am - 12:30pm|2pm - 5:30pm
Sat & Sun: Closed
Nearby Podiatrists in Long Beach: