Dr. Victoria M. Foley, DPM - Superior Foot & Ankle Care Center
Dr. Victoria M. Foley, DPM - Superior Foot & Ankle Care Center is one of the Three Best Rated® Podiatrists in Long Beach, CA.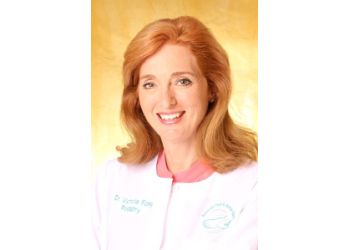 Dr. Victoria M. Foley, DPM, a graduate of Des Moines University in Iowa, is a board-certified Foot and Ankle Surgeon by the American Board of Podiatric Surgery. She is dedicated to providing comprehensive patient care and prioritizes patient education, emphasizing appropriate exercise, proper footwear, and a healthy diet. Dr. Victoria is an active member of several professional associations such as the Orange County Podiatry Association, California Podiatric Medical Association, and American Podiatric Medical Association. Moreover, she serves as the clinical director of the Southern California Special Olympics and is affiliated with Long Beach Memorial and Los Alamitos Medical Center. Dr. Victoria M. Foley's practice is located at the Superior Foot & Ankle Care Center in Long Beach, CA, where she focuses on office protocols, treatment procedures, and general office administration applications.
Heel Pain

Foot Rashes

Foot Odor

Athlete's Foot

Foot Pain

Varicose Veins

Hammertoes

Cosmetic Nail Repair

Bunions

Nail Fungus

Calluses

Ingrown Toenails

Plantar Fasciitis

Common Foot Problems

Pediatric Foot Care

Shin Splints

Achilles Tendonitis

Sports Related Injuries

Foot & Ankle Sprains
Great doctors, I have been seen by Dr. Ornelas over the years for a broken foot and now ingrown toenails. The office staff is kind and doesn't hesitate to help with anything you may need. You won't regret using these doctors for anything you need to keep your feet healthy and get rid of the pain.
Dr. Foley is extremely experienced and very thorough, as well as very helpful! I wouldn't take my feet anywhere else!!! What make my visits even more of a good experience, are how awesome all of her staff is!!! Those ladies are patient, helpful, kind & wonderful, as well
Dr. Graves comes to our home take care of my husband's podiatry needs since he is housebound. He is very professional & addresses all of his concerns. We highly recommend him.
ABPA, Accordia Benefits, Admar, Beech Street, Blue Cross PPO, Cigna, CCN, Centra, Core Star, Pacificare, PHCS, Podiatry Plan, Preferred Health, Prucare, Reta Health, First Health, Trustmark, UFCW, Unicare & United Healthcare
Mon-Thu: 8:30am - 5:30pm
Fri: 8:30am - 12:30pm
Sat & Sun: Closed
Nearby Podiatrists in Long Beach: