Brownsville Montessori Academy
Brownsville Montessori Academy is one of the most prominent preschools in Brownsville. Brownsville Montessori Academy is one of the Three Best Rated® Preschools in Brownsville, TX.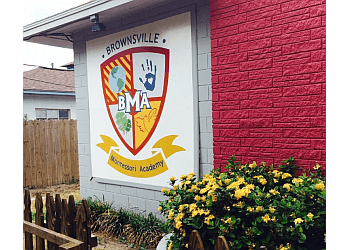 Ms. Claudia Uribe is the Director of the preschool. The preschool has been dedicated to creating a secure and stimulating atmosphere for children to learn and grow. The educational programs at Brownsville Montessori Academy are available for children between 18 months and six years of age, with options for half-day and full-day schedules. Based on the Montessori approach, the school emphasizes education as a tool to aid life and aims to help children develop social skills and self-confidence to reach their full potential. Brownsville Montessori Academy prioritizes cultivating skills such as order, coordination, concentration, and independence. Additionally, students have access to the emerging Bilingual Program.
Personal

Communication

Physical

Self-Help Skills

Field Trips

Mathematical Awareness

Talking

Listening

Teamwork

Literacy

Creative and Aesthetic

Reading

World Knowledge

Understanding

Physical Health

Play

Social

Writing

Scientific Thinking

Sensorial & Math
This school has the sweetest and most caring staff. They really treat them as a family. My daughter has been there for two years and nothing goes unnoticed. Now on a learning basis WOW!!! I salute them!! My daughter gets compliments everywhere we go because she is just so intelligent!!! And I could not be more thankful to BMA for being the absolute BEST. I honestly could not do it without them.
We are very happy with BMA. It feels like a second home for my child. The teachers have many years of experience and are very caring. There are several teachers watching the children while they play outside and we love the size of the class to have 16 students. We visited several schools in the area and decided that BMA was the perfect match for our son.
My grandkids (ages 5 and 8) have been students since they were toddlers. They LOVE going to school each day. They are so loved by their teachers and they love them back. Their learning is so advanced. Their education and whole well being is a BIG priority for us and you take care of all that each and everyday. Thank you from our heart
Mon-Fri: 7:30am - 3:30pm
Sat & Sun: Closed
Nearby Preschools in Brownsville: