Kids 'R' Kids Learning Academy of Charlotte
Kids 'R' Kids Learning Academy of Charlotte offers innovative facilities and effective programs for children aged six weeks to 12 years. Kids 'R' Kids Learning Academy of Charlotte is one of the Three Best Rated® Preschools in Charlotte, NC.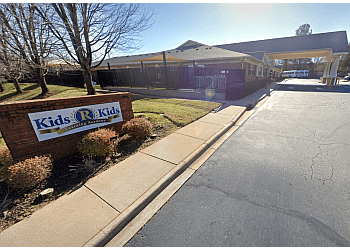 They focus on providing creative, fun, and technology-driven accredited educational programs. The staff members at Kids 'R' Kids Learning Academy of Charlotte prioritize the safety and well-being of the children by undergoing rigorous training. They receive instruction in essential areas such as First Aid/CPR, Infectious Disease Control, Injury Prevention, and Child Abuse Awareness. In addition to these fundamental skills, they participate in specialized training encompassing child development, curriculum design, classroom arrangement, nutrition, classroom management, age-appropriate activities, field trip planning, and compliance with OSHA regulations. This comprehensive training equips the staff with the expertise and capabilities necessary to establish and maintain a learning environment of the highest quality. Their curriculum is driven by clear learning goals that provide teachers with the tools and resources to engage children in enjoyable and purposeful activities. Kids 'R' Kids Learning Academy of Charlotte offers a nurturing and stimulating environment where children can thrive and reach their full potential. Kids 'R' Kids provides a secure program that offers an exciting and educational summer camp experience for children.
Safe and Secure Environment

Social and Emotional-Development

Physical and Cognitive-Development

Rhymes

Finger Plays

Stories

Reading

Stories and Songs

Building Language

Creativity

Fine and Gross Motor Skills

Writing

Hands-On Involvement

Decision-Making and Problem-Solving

Character Development

Vocabulary

Literacy

Small Group Instruction

Art Center

Construction

Dramatic Play

Math

Science/Sensory & Summer Camps
Our family has had a wonderful experience here. Everything is top notch from the front desk, the communication, the teachers are wonderful, food services are great, even the ambiance and cleanliness. Kim runs a wonderful facility, you can tell everyone there loves children. My 4 year old has learned so much and will be so well prepared for kindergarten.
I would highly recommend Kids R Kids. The teachers are personable and went above and beyond to care for both my kids during and beyond Pandemic. They were able to establish a very good relationship and trust with the families. I would also add that all their events are well planned, well executed and most importantly fun for both kids and their families.
The best school ever Hands Down! So grateful my babies go to such an amazing school, as soon as you walk in you feel the love and everyone is so genuine and I can see the growth in both of my babies !!
Mon-Fri: 7am - 6pm
Sat & Sun: Closed
Nearby Preschools in Charlotte: