The Learning Experience
The Learning Experience is a renowned preschool that prioritizes creating a joyful, engaging, and fun environment for early education and daycare. The Learning Experience is one of the Three Best Rated® Preschools in Charlotte, NC.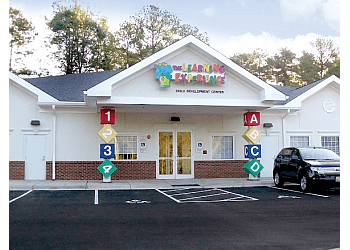 They understand the importance of fostering a love for learning, play, and growth in children. With their specially designed curriculum, they cater to each child's unique needs and developmental stages, encompassing the six early stages of development: Infant, Toddler, Twaddler, Prepper, Preschooler, and Kindergartener. The instructors at The Learning Experience are highly trained and possess professional expertise in early education programs. They bring their knowledge and passion to the classroom, introducing a variety of developmentally appropriate activities that cater to the desires of Preppers, whether they seek quiet or active engagement. These activities, from music and movement to art and science, are designed to meet their evolving needs and interests. Their curriculum incorporates fun and hands-on activities throughout early education, allowing children to develop intellectually, socially, and cognitively.
Cognitive Skills: Matching

Sequencing

Storytelling

Writing

Fun with Phonics®

an Early Reading Program

Foreign Language

Problem Solving

Critical Thinking Skills

Values of Selflessness & Helping Others
I can not thank The Learning Experience (Ballantyne) enough. We are really happy with the staff and the teachers. Our son started at Infant A, Miss Rina is the most compassionate teacher I have met. She has helped my son grow so much, she pay attentions to the kids, and helps them with their development, responds to children in a predictable way, showing warmth and sensitivity, she talks and read books to children. We are very happy.
Our son has been here a little over a year. With each classroom he goes to we see remarkable progression. Ms. Tekeyah and Ms. Anitra treat our son like he is family. They truly love their kids in the preschool class, and care about their development and learning. They are very kind and patient and make us feel comfortable. All of the staff here is very wonderful to work with!
My son just started this week and he loves it! Nice, clean, safe, fun, comfortable environment for my child to grow and learn in. Miss Brooke and Miss Serenity are top notch teachers! They are so welcoming. It puts my mind at ease, knowing my son is in good hands throughout the day, I'm forever grateful to have them & this wonderful facility in our lives, thank you for your time & dedication, it does not go unnoticed!! :-)
Registration Fee: $8,355 per child
Mon-Fri: 6:30am - 6:30pm
Sat & Sun: Closed
Nearby Preschools in Charlotte: