Dr. Susan Eleeson, Ph.D
Dr. Susan Eleeson, Ph.D is one of the Three Best Rated® Psychologists in Sioux Falls, SD.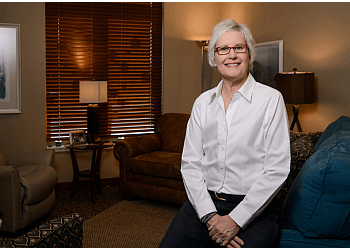 Dr. Susan Eleeson, a highly skilled and widely recognized Psychologist in Sioux Falls, South Dakota, possesses an impressive 24 years of extensive experience in the field of psychology. Throughout her practice, she has successfully managed over 100 cases related to postpartum depression, pre-surgical care, and postmenopausal mood issues. Dr. Susan Eleeson has provided her expertise to assist 6100 new patients, dedicating over 21,500 hours to her profession. Her specialization lies in addressing women's health relationship problems, as well as anxiety and depression related to estrogen. By developing personalized treatment plans, she aims to help clients overcome their challenges. Dr. Susan Eleeson creates a secure and non-judgmental environment to ensure that her patients feel comfortable and at ease. She is affiliated with Avera and Sanford healthcare systems. Additionally, she offers teletherapy appointments as part of her services.
Depressive and Mood Disorders

Verbal

Physical and Spiritual Abuse

Grief

Dysthymia

Pain Management

Panic Attacks

Cognitive Behavioral Therapy

Generalized Anxiety Disorder

Loss of a Child

Depression

Emotional

Relationship Communication and Issues

Stress

Infertility

Coping Skill

Perimenopause & Postpartum
I am so incredibly grateful for the support and guidance Susan has given my husband and I over the last few years. She has helped us navigate through many challenging situations- including difficult family relationships, the stresses that come with raising young children, and career related stresses and burnout. Thanks to Susan, we are so much stronger as a couple and family unit. More recently, she has helped keep us afloat during the Covid pandemic. My husband is an essential worker and with this came a lot of added stress, anxiety, and fear. When Susan's office closed for face to face sessions, she immediately began offering tele-health sessions. We have been able to connect with her virtually and get the support we need from the comfort of our home.
I cannot recommend Susan enough. I have been seeing her for two years and she has helped me to overcome and be more aware of my anxiety. Every aspect of my life has changed for the better. I should have come to her sooner. Also, she has tele-health available, which has been very convenient and easy to use during this COVID time.
Susan has been an essential part of my healing after losing a child. Shes helped me deal with my anxiety and depression and given me practical tools to deal with issues in life. I am so confident in her care that I have referred over 4 people to her practice. She makes me feel at ease and validates my feelings and what I am going through. I've grown up with having a lot of anxiety and she has helped me be able to process this and put truth to what I am thinking. I am so blessed to have found her
Nearby Psychologists in Sioux Falls: